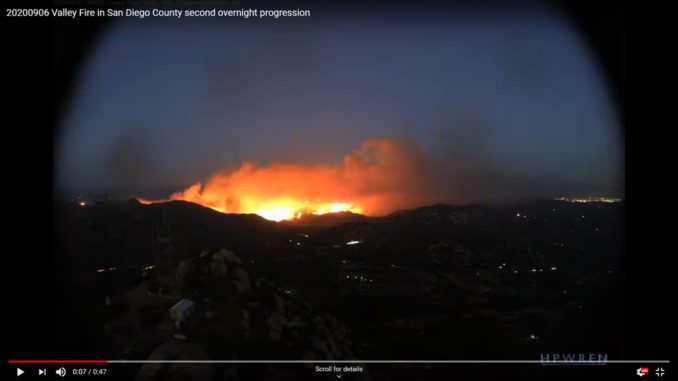 As posted on their homepage: The High Performance Wireless Research and Education Network (HPWREN), a University of California San Diego partnership project led by the San Diego Supercomputer Center and the Scripps Institution of Oceanography's Institute of Geophysics and Planetary Physics, supports Internet-data applications in the research, education, and public safety realms.
HPWREN functions as a collaborative, Internet-connected cyber infrastructure. The project supports a high-bandwidth wireless backbone and access data network in San Diego, Riverside, and Imperial counties in areas that are typically not well-served by other technologies to reach the Internet. This includes backbone locations, typically sited on mountain tops, to connect often hard-to-reach areas in the remote Southern California back country.
---
From HPWREN YouTube: This is a time lapse animation of once-per-minute data of the Valley Fire in San Diego County near Alpine and its overnight progression, as seen from a east pointing HPWREN camera on Lyons Peak. It extends from 18:00 on 6 September 2020 to 6:00 next day, and is shown at 15 frames per second, uploaded as 3072×2048 pixels.