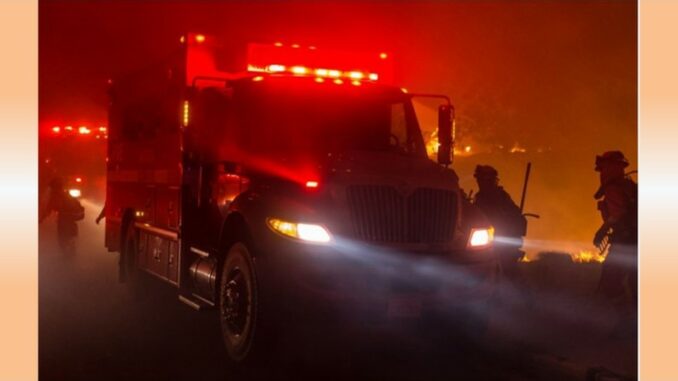 County News Center 09/29/2020: The County continues to bolster its ability to protect itself from wildfires, and a report outlining dozens of steps taken was presented to the Board of Supervisors Tuesday. The Wildfire Resiliency Program report provides an assessment of regional fire preparedness, response, and recovery capabilities to further reduce community risk to wildfires. It comes at a critical time for fire awareness, as San Diego is entering peak fire danger season and fire officials say we're at high risk through December.
Program improvements include additional staffing for a County Fire community outreach division. This division has already developed a new Community Wildfire Protection Plan to provide guidance to local communities on defensible space, reducing dead and dying trees and vegetation, making homes more fire safe and community evacuation.
County Fire/CAL FIRE, the Sheriff's Department and the County Office of Emergency Services are working together to enhance tactical communication during a wildfire incident by implementing a new digital radio system, additional radio repeaters and further investment in satellite communications.
Other improvements include:
County Fire now has four Urban Search and Rescue Units to improve the region's rescue capabilities.
County Fire also improved its Geographic Information System capabilities with more staffing and the purchase of new software to help capture data.
The Department of Animal Services developed a new plan for the evacuation, care and repopulation of animals during an emergency. This plan was successfully implemented during the Valley Fire.
County Public Works helped identify available debris and medical waste disposal sites.
The County Department of Parks and Recreation is helping the emergency interim housing process faster and more efficient.
County Health and Human Services also sent its Live Well Mobile Office to the Local Assistance Center to help those affected by the Valley Fire.
For the complete report from County Fire Authority and CAL FIRE, visit the County News Center at https://www.countynewscenter.com/wildfire-resiliency-improvements-presented-to-supervisors/
For information about the Fire Safe Council of University City, visit https://www.universitycitynews.org/category/sdfd/