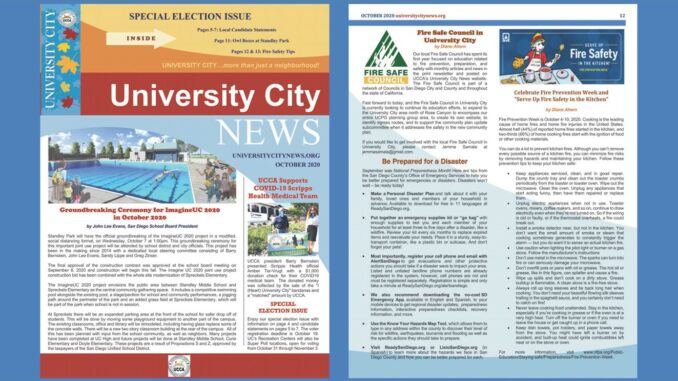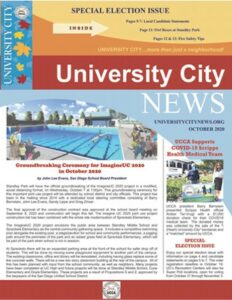 Please note: Print copies of the October University City News will be available on Thursday afternoon at the Recreation Center, Library, and Laundromat on Governor Drive at approximately 4 PM. Home distribution will begin this weekend. 
---
From UCCA President Barry Bernstein: Fall is officially here although we still may have a few more days of warm weather to enjoy. College and professional sports are back, but with their own COVID-19 regulations/schedules to follow, and our Padres, (at this writing), who are in the "play-offs", have a shot to make it to the modified/ shortened – season World Series!
San Diego most recently has met the current COVID-19 State/County standards and will be allowed to keep many businesses and services open for the public. The conundrum of how best to open schools and to ensure our children are getting the education they need in a safe and healthy environment continues to be a challenge. Kudos to our teachers and our parent/grandparent "substitutes" who are doing their best to implement and support these required "distance-learning" efforts.
Most likely many of us have been pre-occupied with the upcoming November 3 elections. Social unrest/injustice remains a reality and our democratic voting process is being scrutinized. Getting our mail-in ballots, (expected the week of October 5), and reviewing candidate's qualifications and State propositions, and exercising our right to vote is everyone's responsibility.
UCCA, as part of their regular meeting on Wednesday, October 14, which begins at 6:00pm, and then at 7:00pm, will switch to co-hosting, along with San Diego's League of Women Voters, a forum for our City Council candidates, Joe LaCava and Will Moore. Please plan to join this ZOOM meeting and take the opportunity to send in your questions for the candidates. Take a moment or two to see/read the comments of some of the candidates for public office in San Diego on pages 5 through 7.
On October 7, the official "ground-breaking" of Imagine UC 2020 will take place at Standley Park at 1 PM. This long awaited "joint-use" project, (the construction is funded by previously approved school bond issues, will be maintained and staffed by the City of San Diego), will provide a beautiful new competitive pool/aquatic center, as well as an outdoor pavilion and jogging path. It also includes a major renovation of Spreckels Elementary and building improvements at Standley Middle School.
UCCA was proud to present Scripps Health with a major donation for their COVID19 medical staff. See page 10. Thank you to those who donated to this cause by purchasing the "I Love University City" bandanas. UCCA's 2021 membership drive begins this month…please support our efforts in making and keeping University City "more than just a neighborhood", by joining and becoming part of UCCA. Thank you and have a fun and SAFE Halloween.
The October 2020 University city news features an article about the Imagine UC 2020 groundbreaking ceremony and the construction start for the aquatic center at Standley Park. this is also our special election edition which features statements from local candidates and information about local polling places and mail ballot drop off-locations. You will find an update from Little league and from the planning board and a full page of programming presented by the library. As always, there is Neighborhood Watch and Fire Safe Council news and features. And you will want to check out the pictures of the two new owl boxes recently stopped installed at Standley Park.
Take a look at the October issue and all past issues at https://www.universitycitynews.org/ucca-newsletter-archives/