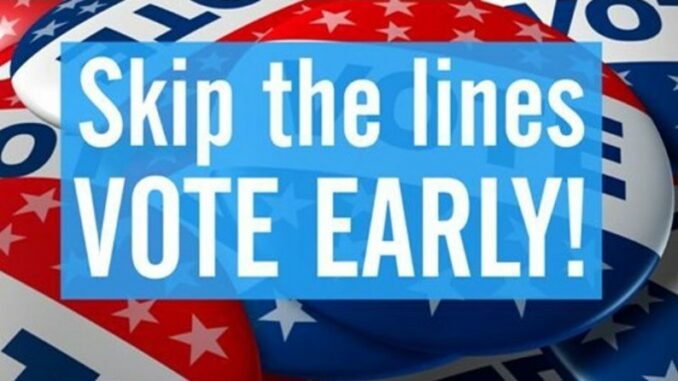 From the County News Center: The Registrar of Voters office reminds you that you can make voting decisions and complete your mail ballot in the comfort and safety of your home. Remember to sign and date your envelope, seal your completed ballot inside and return it to a trusted source. You can return it by mail, no postage needed, or at one of 126 mail ballot drop-off locations around the county.
Available Today! Mail Ballot Drop-Off Locations in University City (92122) are open Monday through Saturday 9:30 a.m. – 5:30 p.m. On Election Day, Tuesday November 3, hours for dropping off completed mail ballots are 7 a.m. to 8 p.m.
North University Community Library at 8820 Judicial Drive
University Community Library at 4155 Governor Drive
Open Today! Vote in person (or drop off your mail-in ballot) at the Registrar of Voters Office in Kearney Mesa, Registrar of Voters Office at 5600 Overland Avenue, San Diego, CA, 92123. Monday through Friday from 8 a.m. to 5 p.m.
Super Polls open beginning Saturday, October 31! In University City (92122), the Super Polls are open Saturday, October 31 through Monday, November 2, 8 a.m. to 5 p.m. All Super Polls will be open on Election Day, November 3, from 7 a.m. to 8 p.m.
Doyle Recreation Center on at 8175 Regents Road
Nobel Recreation Center at 8810 Judicial Drive
Standley Recreation Center at 3585 Governor Drive
To find your assigned polling location, consult your election materials or the registrar's website at https://www.sdvote.com/content/rov/en/elections/election_information.html 
Learn more about voting in the presidential general election from the Registrar of Voters at sdvote.com or call 858-565-5800.
For more information, visit Do You Need to Vote in Person at https://www.sdvote.com/content/rov/en/elections/in-person-voting.html
For more information, visit https://www.countynewscenter.com/you-dont-need-to-wait-until-election-day-vote-early/