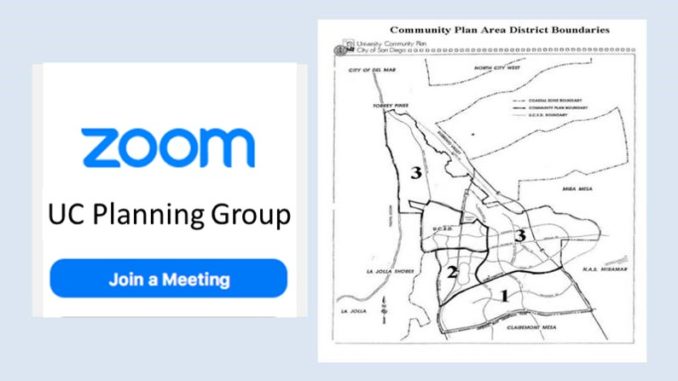 From University Community Planning Group (UCPG) Chair Chris Nielsen: The University Community Planning Group (UCPG) will meet Tuesday, November 10, 2020, 6 PM, using Zoom video conferencing technology. There are four main items on this month's agenda:
Formation of a BIOMED subcommittee. When the UCPG voted to approve the community plan amendment initiation for the BIOMED campus we also voted to form a subcommittee to consider the project on an ongoing basis. We need 10-15 UCPG board and community members to serve. We will determine an initial subcommittee meeting date at this time. Stephanie Saathoff and Clif Williams will be attending the meeting on behalf of BIOMED.
This information item asks for community feedback for a Super Star Car Wash to be built in the high-noise area of Miramar. Because it is in the high-noise area for MCAS Miramar, it is a Process 5, approval by the City Council. We expect that the applicant will be back in January for a project recommendation. Presentation available at Super Star Car Wash 6270 Miramar Rd Presentation Nov 2020
The City will be presenting its plan for the Gilman Drive portion of the Coastal Rail Trail Bicycle Project. This is an action item; we will be asked for a project recommendation. Presentation available at Coastal Rail Trail – University CPG Presentation 2020-1110
Kristin Camper of MCAS Miramar will be presenting the MCAS Miramar AICUZ (Air Installations Compatible Use Zones) Update. The AICUZ update is available on MCAS Miramar website at https://www.miramar.marines.mil/Resources/Encroachment/AICUZ/. Presentation available at AICUZ Brief UCPG November 2020
The formal agenda for the November meeting is available on the City's website at https://www.sandiego.gov/planning/community/profiles/university/agendas
5:45 0. Meeting available to join via Zoom.
6:00 1. Call the Meeting to Order: Chris Nielsen, Chair.
Agenda: Call for additions / deletions: Adoption.
Approval of Minutes: September 15, 2020 and October 14, 2020.
Announcements: Chair's Report and CPC Report.
6:05 5. Presentations:
SANDAG/Mid Coast Trolley – Gia Ballash
Councilmember Barbara Bry – Justine Murray
Membership Report – Anu Delouri
Plan Update Subcommittee – Andy Wiese, Chair
Planning Department – Katie Witherspoon
Assemblymember Todd Gloria – Mathew Gordon
Senator Toni Atkins – Miller Saltzman
UC San Diego – Alyssa Helper
6:50 6. Public Comment: Non-Agenda Items (3-minute limit).
7:00 7. Action Item: Formation of a BIOMED subcommittee.
7:10 8. Information Item: PTS 658226, Express Car Wash, 6270 Miramar Rd., Process 5, Jeff Wright, OnPoint Development presenting.
7:30 9. Action Item: Coastal Rail Trail/Gilman Drive bicycle project, Alejandra Gonzalez Nava, City of San Diego presenting.
8:15 10. Information Item: MCAS Miramar AICUZ, Kristin Camper presenting.
9:00 11. Adjournment: Next Meeting is January 12, 2021 by Zoom.
---
From Chris Nielsen, UCPG Chair:
Meeting participants will initially be admitted into the meeting "waiting room". I will move participants from there to the meeting itself. Participants will be muted on entry, and will need to "raise their hands" to be recognized to speak. Thanks for your courtesy!
Some helpful hints:
Downloading the Zoom app to your device seems to give the best results. You may register for free and minimize the amount of follow-up email by choosing your email notification preferences.
The Participants button is at the bottom center of the Zoom video screen. Use this button to get both a list of participants and to expose the "Raise Hands" feature at the bottom.
Leave your device muted during the meeting; this helps keep extraneous background sounds from interfering with the meeting.
I will enable the meeting about 5:45. For those who have not used Zoom before in a formal meeting setting, I will be available to help you test your meeting connection.