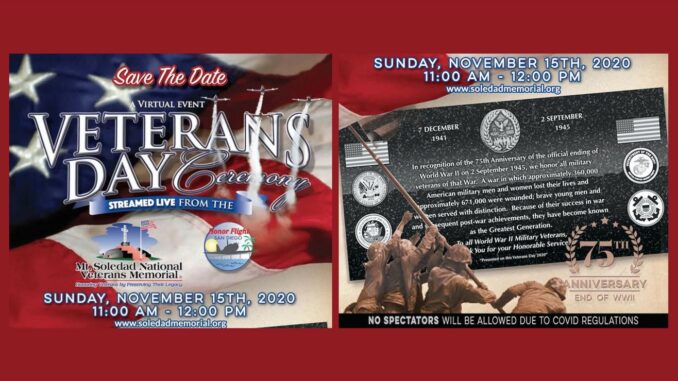 From Mt. Soledad National Veterans Memorial: Due to COVID-19 restrictions, there will be no live event and no spectators allowed at the Veterans Memorial this year. However, there will be a Live Virtual Simulcast Commemoration and Honor Flight San Diego flyover on Sunday, November 15, 2020, from 11:00 am – 12:00 noon. The theme of this year's event is the Greatest Generation and will feature interviews with World War II Veterans. The Honor Flight San Diego flyover is expected to pass over Mt. Soledad and MCAS Miramar airfield between 11:45 to 12 noon and may be visible from University City.
From the San Diego Union Tribune: Many traditional Veterans Day parades and ceremonies drawing crowds from throughout San Diego County in past years have turned into virtual events this year in response to the pandemic. Here's a lineup of some patriotic celebrations, including drive-thru, in-person and virtual Veterans Day ceremonies. Visit https://www.sandiegouniontribune.com/north-county-community-news/story/2020-11-04/veterans-day-events-2020
For more local event information, visit https://www.universitycitynews.org/category/events/
---
Did you know that San Diego is home to over 200,000 veterans and over 100,000 active duty service members? On November 11, we celebrate Veterans Day. UCCA thanks all our veterans and the active duty community for their service.