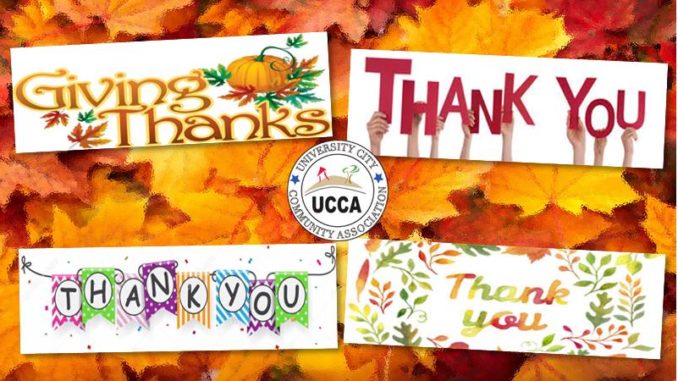 Thanksgiving week is here and the pandemic continues to be on everyone's mind. Although we look forward to celebrating with friends and family, this year may look quite different for some with the new reality of COVID restrictions, smaller gatherings, reduced travel plans and online events.
We, the volunteers at University City Community Association, are looking for ways to keep the 'thanks' in Thanksgiving. We give thanks to the many UCCA members who, through their UCCA membership dues, helped support and fund many events and projects in University City.
Despite this year's ongoing pandemic, UCCA volunteers continued to publish a print newsletter, host virtual public meetings, and provide news and information to community residents through its email lists, website and social media. Earlier this year, UCCA provided financial contributions to UC High School for its graduation event, to EdUCate to support the five University City public schools, to the Scripps Health COVID-19 Fund, and sponsored a street median cleanup.
We thank our newsletter advertisers without whom we would not be able to publish our monthly print newsletter. We're also thankful for all the volunteers who give tirelessly to our community through various volunteer organizations such as the Fire Safe Council, Parks Council, Community Foundation, EdUCate, PTAs, UC Cluster, Planning Group, Community Plan Update Subcommittee, Citizens Advocating Safe Aviation, and UCCA's own University City News newsletter contributors, various special events committees, and newsletter delivery and neighborhood watch volunteers.
Thank you all for making University City more than just a neighborhood.