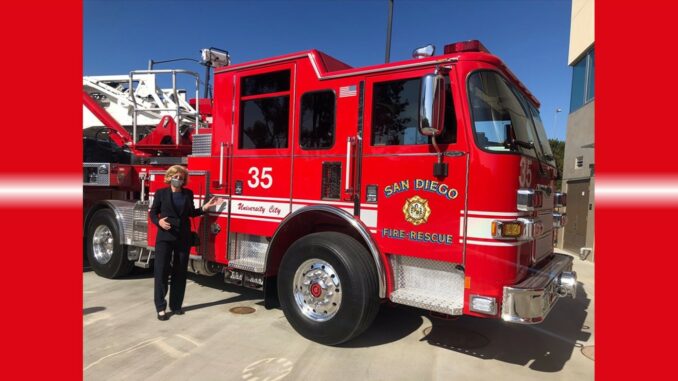 As posted on Facebook @BarbaraBryD1 Councilmember Barbara Bry: Fire Station 50 in University City is officially open! We've seen University City and the surrounding areas experience a great deal of growth over the past several years. With that growth comes the need for additional safety resources and the infrastructure to ensure that all of our communities are adequately prepared and protected. Fire Station 50 will help bring down the response times for emergency calls around this community, which will allow the other fire stations to respond to additional calls even faster.
Thank you City staff and the community for working to get this project to the finish line. We're finally here and I couldn't be happier to celebrate the culmination of those efforts today. Thank you University City for being such an amazing partner these last 4 years.
From City of San Diego media release 11/24/2020: Marking the completion of the 10th new or rebuilt fire station during his tenure, Mayor Kevin L. Faulconer will be joined today by Fire-Rescue Chief Colin Stowell and Councilmember Barbara Bry for a ribbon-cutting ceremony for the new Fire Station No. 50 (at 7177 Shoreline Dr., San Diego, CA 92122) that will serve University City and surrounding neighborhoods for generations to come.
Along with the new station, the City will be showcasing the newest fire apparatus – a tractor drawn aerial designed to douse fire in high density areas – that will keep San Diegans safe during what has become a year-round fire season in California. The apparatus is equipped with extra seating for up to six personnel and the ladder pipe operation can be done remotely versus having a firefighter at the top of the ladder. It also has the capacity to douse fires with up to 1,500 gallons per minute.
The new 12,000 square foot, three story fire station includes three apparatus bays, sleeping quarters for 10 personnel, a kitchen, a day room, watch room, exercise room and training room.
Check out the SD Fire-Rescue videos on their Facebook at https://www.facebook.com/SDFDofficial
For more information from San Diego Fire Rescue, visit their website at https://www.sandiego.gov/fire
For information about University City's Fire Safe Council, visit https://www.universitycitynews.org/category/sdfd/
For more background about Station 50, visit https://www.sandiego.gov/mayor/news/releases/city-leaders-break-ground-new-fire-station-university-city