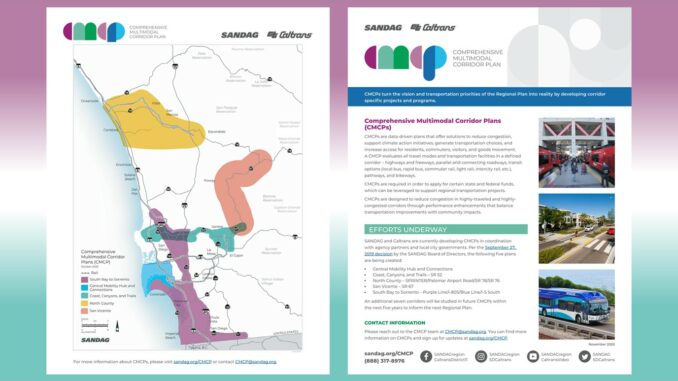 From SANDAG via Facebook @SANDAGregion: Did you know? Caltrans District 11 and SANDAG are developing Comprehensive Multimodal Corridor Plans (CMCPs) as part of ongoing efforts to enhance regional transportation options. These data-driven plans will provide a long-term blueprint for major corridors throughout San Diego County. Work is currently underway on the first five corridors – check out the map to take a closer look. Please note that corridors 4 and 5 include parts of University City. Current Community Planning Projects:
Central Mobility Hub and Connections: The project includes the San Diego International Airport, the Midway District, Balboa Park, and the Downtown area within the City of San Diego.
San Vicente Corridor – State Route 67: The project includes the City of Poway, the County of San Diego (Ramona and Lakeside communities), and Barona Reservation.
North County – SPRINTER/Palomar Airport Road/SR 78/SR 76: The project includes the cities of Escondido, San Marcos, Vista, Carlsbad, and Oceanside as well as a portion of San Diego County and incorporates the Inland Rail Trail and the North County Transit District SPRINTER transit line.
Coast, Canyons, and Trails – State Route 52: The project includes the cities of San Diego, Santee, and El Cajon, as well as a small portion of the County of San Diego.
South Bay to Sorrento – Purple Line/I-805/Blue Line/I-5 South: The project includes the cities of San Diego, Chula Vista, Coronado, National City, and Imperial Beach and incorporates State Route 905, the Bayshore Bikeway, and several major arterials.
When completed, the CMCPs will offer solutions that aim to:
Reduce traffic congestion
Support climate action initiatives
Generate transportation choices
Increase access for residents, commuters, visitors, and goods movement
Learn more about CMCPs and how you can get involved at sandag.org/CMCP
Learn more at the VIRTUAL COMMUNITY MEETING THURSDAY, JANUARY 28, 2021. A Spanish interpreter will be available during the meeting.
Date: Thursday, January 28, 2021
Time: 6 – 7:30 p.m.
Use the following link to join: us02web.zoom.us/j/84300170028
Or Telephone: (669) 900-6833
Webinar ID: 843 0017 0028
If you can't attend, a recording of the meeting will be posted on the South Bay to Sorrento Corridor virtual engagement hub following the live event. You also can download the project fact sheet, ask questions, take a survey, and share comments on the interactive map.
For related posts in this category, visit https://www.universitycitynews.org/category/transportation/