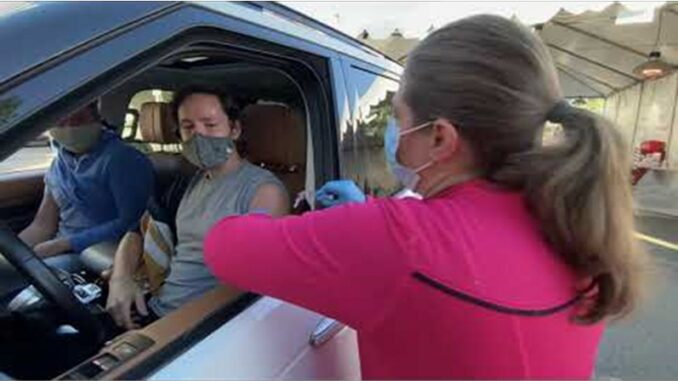 From District 3 County Supervisor Terra Lawson-Remer, an Update on the Covid-19 Vaccine: The COVID-19 pandemic has devastated so many lives and businesses throughout our community. Although the breakthrough vaccine provides us a glimmer of hope, due to severe vaccine shortages at the federal level, we are still many months away from having sufficient vaccine doses here in San Diego.
I am working with our emergency services, our hospitals, and the cities across our district to stand-up vaccine rollout systems to distribute the vaccine as quickly as possible as it becomes available. In the meanwhile, I know we all need the most up-to-date information possible regarding the vaccine situation. Updates are happening on a daily basis and we encourage you to share this information with your friends and loved ones. If you have questions that our office can be helpful with, please reach out. Visit our website sandiegocounty.gov/content/sdc/bos/district3.html. Get the most up-to-date Covid-19 information at coronavirus-sd.com.
---
COVID-19 Vaccine Frequently Asked Questions – Adapted from information provided by County Supervisor Terra Lawson-Remer
Am I eligible to get a vaccine now? When will I be eligible? For the most up-to-date information on who is eligible to receive the COVID-19 Vaccine, visit the COVID-19 page on the County's website at coronavirus-sd.com/vaccine. Additionally, depending on which group you fall into, you may be notified by your healthcare provide.
Where and how can I schedule an appointment to receive a vaccine? The most up-to-date vaccine distribution information is at coronavirus-sd.com/vaccine and appointments can be made at vaccinationsuperstationsd.com. Appointments are only available if doses are available, pending distribution from the State and Federal governments. You should also reach-out to your own healthcare provider to inquire how to receive a vaccine — doctors and hospitals throughout our region are working to provide vaccination shots to their own members as quickly as vaccine doses are received.
My parent lives in a nursing home and she still has not been vaccinated. What do I do? Under the federal distribution plan, pharmacies like CVS were contracted to vaccinate long term care facilities and skilled nursing facilities. Due to limited logistical capacity of pharmacies, starting this week the County Fire Department (CalFire) will also help-out and begin vaccinating nursing homes on request. Please reach-out to my office at sandiegocounty.gov/content/sdc/bos/district3.html if your nursing home has not been vaccinated and we will connect you with CalFire.
Distributing the vaccines is urgent. We need all hands on deck. How can I help? Are you a seasonal EMT? A nurse? A medic or a retired healthcare provider? Then your community needs you. There is a shortage of personnel to administer vaccine shots and our frontline providers are exhausted and over-extended from fighting this pandemic for the past 10 months. The County and UC San Diego Health are looking for volunteers with medical training to help provide COVID-19 vaccines. Search for more information about the County Medical Reserve Corps on the County's website sandiegocounty.gov.
---
For related posts, visit https://www.universitycitynews.org/category/community-health/