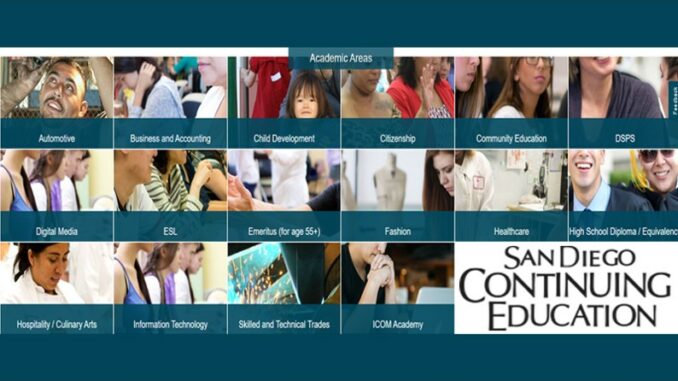 From San Diego Continuing Education (SDCE): As industries face hardship and uncertainty, this spring SDCE will help residents from across the county to attain livable wages in a COVID-19 economy through free short term career training in several pandemic resilient workforce sectors from information technology, healthcare, to automotive, and plumbing. Other free classes include English as a Second Language (ESL), Citizenship, and High School Diploma/Equivalency.
To help prevent the spread of COVID-19, all classes for the spring 2021 semester will be taught through remote online instruction using simulation software to mirror in-person learning and industry competencies.
San Diegans interested in pursuing a career in information technology, America's fastest-growing profession, can enroll in SDCE's ICOM Academy (Interactive Competency-based Online Micro-credentialing Academy). The new dedicated digital educational program accommodates face-to-face live interaction with faculty and other students in an online classroom equipped with free integrated software and textbooks. Among the career education options are Cybersecurity Analyst, Linux Server Administration, and Mobile Application Development.
An estimated $1.6+ million dollars in federal stimulus funding and success grants will be distributed to eligible students to support online learning. Success grants either subsidize directly the achievement of an academic or professional goal; or can augment an applicant's financial access to a program or service that helps them overcome inequity and barriers to student success.
SDCE will also continue to provide a "Wi-Fi Parking Lot" for enrolled students to ensure equal access to online instruction. SDCE is enrolling now for the spring semester. For more information please visit https://sdce.edu/
For related posts from UCCA visit https://www.universitycitynews.org/category/events/