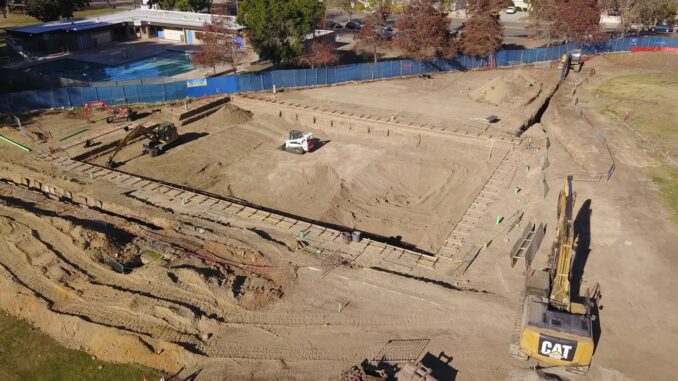 From Dan Chandler, Balfour Beatty construction superintendent, as shared with Diane Ahern in mid-January: Construction of the joint-use pool at Standley Park adjacent to the existing Swanson Pool continues with deep underground site excavation for under pool drainage, storm water storage, and sewer pipelines. In addition, the pool is in the fine grading stage in preparation for concrete work to begin in February. The joint-use pool will include a zero-depth ramp for wheelchair access and a no-climb fence for safety.
On the Standley Middle School side of the joint-use fields, the perimeter walking path and the pavilion foundation excavation is in process. In March, the structural steel framing for the pool buildings and the pavilion will begin to go vertical. Once the construction project on the Standley Middle School side of the park is completed, the joint-use fields will be restored to their original condition.
Editor's note: Dan Chandler is a University City resident. The Balfour Beatty construction offices are currently located in the Standley Middle School parking lot on Governor Drive. Construction photos courtesy of San Diego Unified School District and Karl Cranford. Video courtesy of Karl Cranford. Dan Chandler photo courtesy of Diane Ahern.
---
From Dr. John Lee Evans, former SDUSD School Board President: It is exciting to see the ImagineUC project coming to fruition. Once completed this project in the heart of University City will give us the opportunity to watch aquatic sports, take in a concert, stroll around the park perimeter, play ball games with expanded green space—all between two schools that will be modernized. It will be a beautiful community gathering space for all ages to enjoy.
For related posts from UCCA, visit https://www.universitycitynews.org/category/imagine-uc-2020/