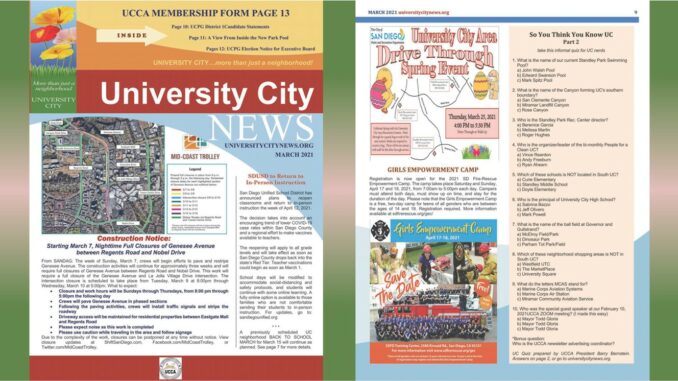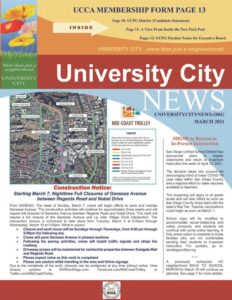 Notice of Elections for the University Community Planning Group (UCPG) Executive Board: The University Community Planning Group (UCPG) will hold its election for three residential and three business seats for three-year terms. Voting ends Tuesday, March 9, at 8 PM. Candidate statements and voting information is available in the print March 2021 University City News. The Election Notice and Ballots are available for download at https://www.sandiego.gov/planning/community/profiles/university/agendas
---
Update March 2, 2021: UCCA has been informed that Full Closures of Genesee Avenue (the March cover story) have been postponed and updates will be provided once new dates are confirmed. Please check the Keep San Diego Moving website for current Construction Notices at https://www.keepsandiegomoving.com/Mid-coast/midcoast-notices.aspx
---
From UCCA president Barry Bernstein: The PDF version of the March 2021 University City News is now available. Distribution of the print newsletter will begin on Friday, March 5. It's MARCH everyone, so please put a little SPRING in your step as we move forward in the ever-improving and continuing COVID 19 battle. I hope that all of you who are eligible for vaccinations have been able to either complete and/or schedule your necessary "shots". Vaccine distribution/production has had its share of "hiccups", but continues to improve as has the notable decline in the numbers of hospitalizations and deaths associated with COVID.
As of this writing, it looks like there's a good chance that our schools, (K-8) may be able to open soon with in-person classroom instruction as long as the CDC and County protocols are met. Recently High School Athletic programs were approved. In the meantime, let's stay safe and continue to follow the CDC's recommendations for mask- wearing, social distancing, and handwashing.
Spring officially arrives on the 20th, (Padres have begun their Spring Training), after we adjust our clocks for Daylight Savings time on the 14th, and celebrate St. Patrick's Day on the 17th. Passover begins with its first Seder on the evening of the 27th, with Easter just around the corner. Our local recreation centers are hosting a drive-through Spring Egg event; you'll find information in the March newsletter.
Many of you who enjoy the outdoors for walks and biking, might now be thinking about the annual necessary preparations for your flower and vegetable gardens. We were very pleased and honored that Mayor Todd Gloria participated in our February UCCA meeting. There are many serious City-wide issues to address, (COVID 19, the "homeless" population, broken/decaying Infrastructure, to name a few). With a huge looming budget deficit the City may be forced to make critical cuts in services.
The American Rescue Plan being put forth by the Biden administration, if passed in its current form, will provide the city of San Diego with some relief and hope in maintaining library, rec. center, and fire protection services. Nathan Fletcher, San Diego County Board of Supervisor President, (who formerly resided in University City), held his first "State of the County" speech recently. Under his leadership the County Board will be taking on some very important community health and social/criminal justice issues in the greater San Diego County area with an emphasis on the underserved communities.
Mayor Gloria and Supervisor Fletcher emphasized their mutual support and collaboration related to these concerns. It was also important to note that both leaders took the opportunity to not only thank and recognize the many City/County workers, particularly those on the front lines in the COVID battle, but also realize the need and importance to support small businesses and to work with the various City and County workers' labor unions.
Kudos to our City Councilmember Joe LaCava, who held his ground in support of keeping the integrity of our San Diego neighborhoods. Our next UCCA (ZOOM) meeting will be held on Wednesday, March 10.
Please remember an election for a South UC resident position on UCPG Planning Group is taking place this week. The deadline to vote is Tuesday, March 9 (the date of the March UCPG meeting). Check the print newsletter for candidate statements and voting information. Ballots are available on the City's website at https://www.sandiego.gov/planning/community/profiles/university/agendas
Remember, University City is "more than just a neighborhood". JOIN UCCA…and support our efforts. Thank you. ~Barry
---
Let's support our local businesses. UCCA urges all members to refer to the advertising section in the print newsletter for current promotions from our local advertisers. The print newsletter is available as a PDF at https://www.universitycitynews.org/ucca-newsletter-archives/