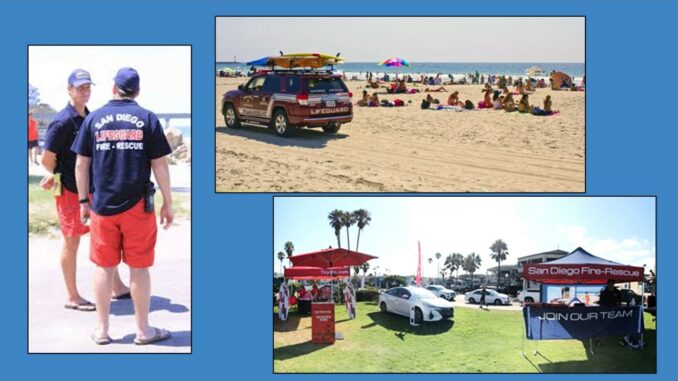 From the San Diego Fire-Rescue Department: You already know this: The San Diego coast is a popular destination for visitors and residents alike. But did you know this: San Diego Fire-Rescue Lifeguard Division perform more than 9,000 water rescues on average each year?
To kick off the summer season, SDFD lifeguards, in collaboration with Toyota, the Official Vehicle of the lifeguards, will promote water safety throughout the summer and concluding on Labor Day.
Summer is here and now is the perfect time to learn the basics of water safety. Come join the San Diego Fire-Rescue Lifeguard Division, for Toyota Water Safety Day. Lifeguards will be at Mission Beach, 3100 Ocean Front Walk, on the grass from 8 a.m. to 5 p.m. on Sunday, June 13. And Toyota will be there with giveaways. We look forward to seeing you!
Look for SDFD lifeguards and Toyota at your local beaches including Mission, La Jolla, and Ocean Beach. San Diego public safety personnel will be on hand to discuss water safety tips at these events, as well as highlight job opportunities as an SDFD lifeguard. Toyota will be on-site to showcase their fleet to include a lifeguard vehicle which is a key tool in public safety efforts along the City's beaches and cliffs.
---