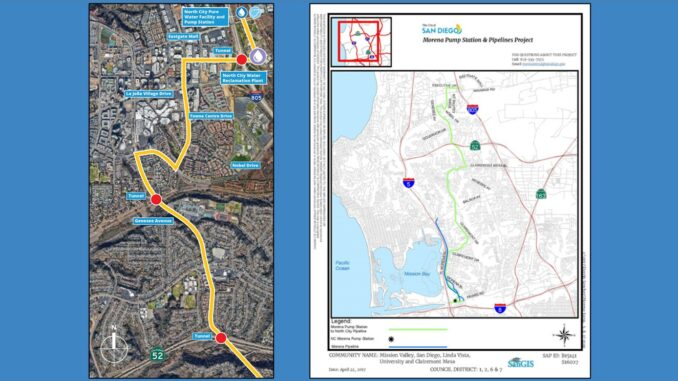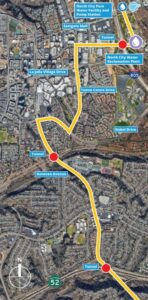 From the City of San Diego Public Utilities: The Morena Northern Pipelines and Tunnels, North City Water Reclamation Plant (NCWRP) Expansion, and North City Pure Water Facility (NCPWF) and Pump Station will be built in the University City community. The Northern Alignment will divert 32 million gallons per day (mgd) of wastewater that would otherwise be treated and discharged into the ocean to the North City Water Reclamation Plant, where it will be treated to recycled water standards.
The NCWRP is being expanded to continue providing recycled water to its current users as well as supplying the NCPWF with the water necessary for advanced purification. The NCPWF will use a proven five-step treatment process to further clean 30 mgd of recycled water to produce purified water. The pump station will convey the purified water to the Miramar Reservoir where it will be stored before receiving additional treatment at the Miramar Drinking Water Plant.
Morena Northern Pipeline Alignment and Tunnels: The Morena Pipelines Northern Alignment and Tunnels will connect to the Morena Pipelines Middle Alignment to the south and the North City Water Reclamation Plant to the north. This project begins on Genesee Avenue between Appleton Street and State Route 52 and continues on Genesee Avenue, Nobel Drive, Towne Centre Drive and Executive Drive. Tunneling will be completed at Genesee Avenue and SR-52, at Genesee Avenue and Rose Canyon, and under Interstate 805.
Construction Schedule: 
Anticipated Start: June 2021
Anticipated Completion: 2024
Construction for this project will primarily take place on weekdays at night from 9 p.m. to 5 a.m., except on Nobel Drive, when construction will take place on weekdays during the day from 8:30 a.m. to 3:30 p.m. Tunneling work will be 24/7 with adherence to noise requirements.
For more information, visit https://www.sandiego.gov/public-utilities/sustainability/pure-water-sd/phase-1-projects/university-city-eastgate-mall