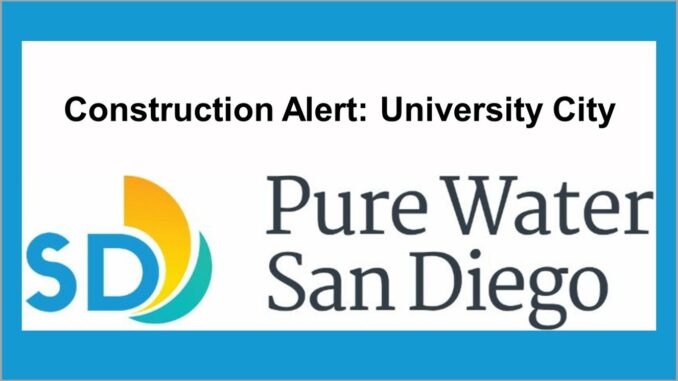 From an email alert from City of San Diego Pure Water: Beginning Wednesday, August 18, 2021, the City of San Diego will be conducting nighttime work on Executive Drive as part of the Morena Pipelines Northern Alignment and Tunnels project. The work will provide the City's team with important information about the location and depth of existing utilities in the public right-of-way.
Executive Drive – What to Expect:
Work is scheduled from 9 p.m. to 5 a.m. from Sunday nights to Friday mornings.
Traffic control, like signage and cones, will be in place to direct traffic around the active work areas. There will be no full road closures or detours during this phase of work.
It is anticipated that this work will last approximately 1-2 weeks.
Eastgate Mall / Eastgate Drive / Judicial Drive – What to Expect:
Nighttime construction will continue to occur on Eastgate Mall between Eastgate Drive to Judicial Drive from 9 p.m. to 5:30 a.m. from Sunday to Thursday nights, but the schedule has been extended until June 2022.
Aug.-Sept. 2021: Crews will be completing water, sewer and storm drain tie-ins.
Sept. 2021-Jan. 2022: SDG&E will relocate gas lines.
Feb-April 2022: Process Lines will be completed.
May-June 2022: Street improvements and traffic lights are anticipated.
Please note this schedule is subject to change. We will provide an updated schedule on this work as-needed. For questions or concerns, please reach out to the UC community liaison, Sarah Bowles, at sbowles@sandiego.gov.
To subscribe to Pure Water email alerts, visit https://visitor.r20.constantcontact.com/manage/optin?v=001wdP2pGZj8I0yuhzdTt7YGQ88wdaZZKhB
For more information about Pure Water the construction to begin on August 18, visit https://myemail.constantcontact.com/University-City-and-Eastgate-Mall-Construction-Alert–Upcoming-Construction-for-Pure-Water.html?soid=1104524640535&aid=rb6D1nRdSyE