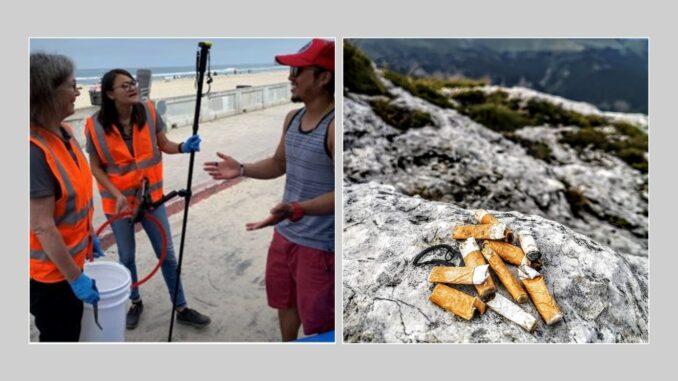 From Community Outreach Coordinator, Tobacco Product Waste Reduction Project, San Diego State University: San Diego State University researchers kicked off the Tobacco Product Waste Reduction Project in June. The project team will be collaborating with communities in eight cities in San Diego County to better understand the problem of tobacco product waste and develop sustainable solutions.
Specifically, SDSU researchers are studying all types of tobacco product waste–everything from cigarette butts, cigar tips, cannabis butts, and e-cigarettes, to rolling papers, packaging, smokeless tobacco tins, and lighters. After collecting, counting, and weighing the waste, SDSU researchers will create maps and examine statistical models to describe the distribution of waste and explore reasons for the observed patterns.
They anticipate arriving in University City and San Diego City Council District 1 in September. The team, wearing bright orange vests and using iPads and GPS technology, closely follows research protocols to collect and document the tobacco-related waste. Please say hello if you see them in your neighborhood.
The data collection will continue around San Diego County during the next year. To join the project team in District 1 and other areas, please visit https://merg.sdsu.edu/tpwr-project/ or go directly to the volunteer registration page here: https://sdsu.co1.qualtrics.com/jfe/form/SV_eLqeLkBzu1hXiQe
---
Photo Caption: SDSU's Dr. Lydia Greiner and Graduate Student Nalima Joshi take a break in data collection to explain the Tobacco Product Waste Reduction Project to Mr. An Nguyen.