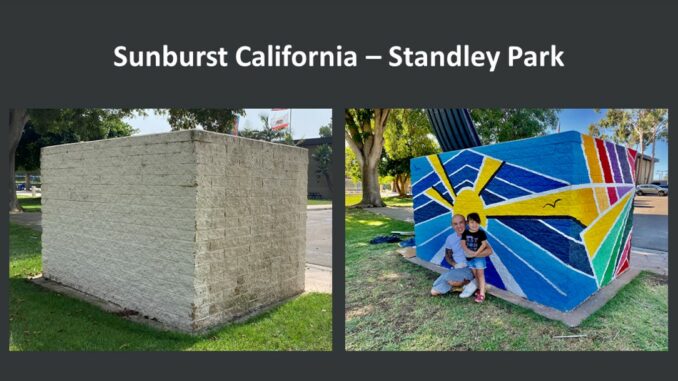 The University City Parks Council (UCPC) is excited to announce that the Sunburst California art installation at Standley Park, 3585 Governor Drive, has been completed. The artist muralist is Andrew Sanchez and is known by many as the designer of the Summer Concerts and UC Celebration banners, the silhouette street banners, and for his mural on a transformer box on Governor Drive near Genesee.
The artist chose a simple color block design because of the rough texture of the cement brick wall that surrounds the garbage dumpster. The design and colors help to enhance the ever-changing play of sunlight and shadow across its painted surface. In keeping with a public park that invites people of all ages to enjoy its outdoor spaces, the wrap-around design invites movement as the viewer must walk around the structure to see all three sides of Sunburst California.
This mural is the latest addition to the University City art scene and complements the existing Transformer and Utility Box Art Project sponsored by University City Community Association (UCCA).
[Best_Wordpress_Gallery id="102″ gal_title="Sunburst California"]
The City of San Diego requires that any artwork proposed for property owned by the City, under the jurisdiction of the City, or both, be reviewed by the Commission for Arts and Culture and approved by the City before installation. Sunburst California is the first mural installation completed in San Diego that was facilitated by the Commission for Arts and Culture using their new Mural Tool Kit and Application. To learn more about how you can propose artwork for city property, visit sandiego.gov/arts-culture/publicart/civicart/proposingartwork
The Standley Park Community Recreation Group meets the 4th Thursday of the month at 7 PM. For more information, call Standley Park Recreation Center at (858) 552-1652. 
For more Parks & Recreation news, visit https://www.universitycitynews.org/category/parks-recreation-dept/