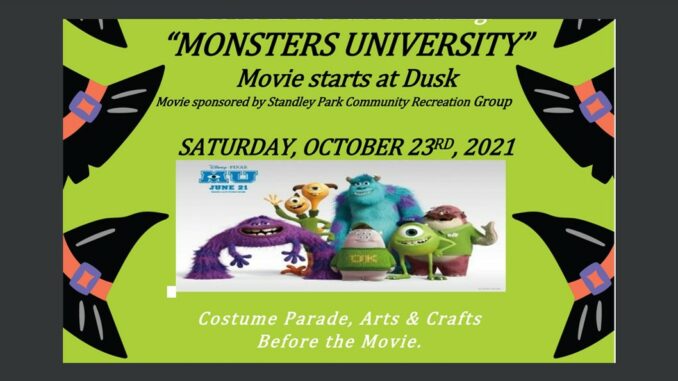 Lots of Halloween fun still to come at Standley and at Nobel Recreation Centers.
Saturday, October 23, Standley Park Recreation Center, 3585 Governor Drive, presents a movie in the park. Monsters University begins at sundown. It's fun for the whole family when Mike Wazowski enrolls at Monsters University to learn how to be a Scarer where he meets Sulley, a natural-born Scarer. For more information, contact the recreation center at 858-552-1652. Don't forget to wear your costume! There will be a costume parade and arts & craft projects before the movie.

Everything is planned to be outside in the grassy area between the Recreation Center and Swanson Pool … so please plan for the weather.

Arts/crafts starts and games start 5
Parade starts 530
Movie starts about 6

Thursday, October 28, Nobel Recreation Center, 8810 Judicial Drive, presents a Halloween Drive Through from 4:00 to 6:00 p.m. Show off your costumes as you drive through for a goody bag. For more information, contact the Recreation Center at 858-552-1626.
In other Parks and Recreation news:
Salome Martinez has been named the Parks and Recreation District Manager in the University City area. She has held positions previously at both Standley and Doyle Recreation Centers.
Jose "Jay" Villanueva has been named the new Area Manager for University City parks. He started his assignment last month and is quickly getting familiar with the parks and staff in this area.
Community Recreation Groups (CRG) meet monthly to make recommendations about local Parks and Recreation programs, events, and expenditures. Meetings are open to the public. For more information about upcoming meetings, please contact the Recreation Center.