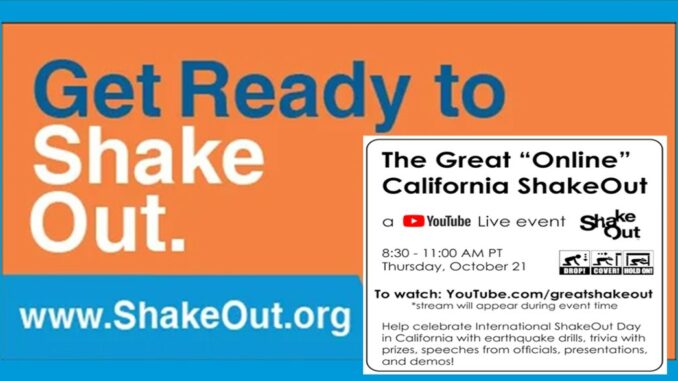 From ShakeOut California: Just a reminder to join us between 8:30 AM and 11:00 AM PT, October 21, 2021, for the special YouTube Live event, The Great "Online" California ShakeOut. We will be celebrating #ShakeOut with multiple drills, presentations from experts and officials, earthquake trivia with giveaways, and key resources and videos useful to earthquake preparedness and mitigation.
Whether you already have a drill and other activities planned or not, you can still join this special, optional event any time between 8:30 AM and 11:00 AM PT! To watch, just click YouTube.com/GreatShakeOut to the live stream on the Great ShakeOut Earthquake Drills' YouTube Channel. The stream will be available with Spanish and English subtitles, along with American Sign Language (ASL) interpretation!
Got a question? Need help? See ShakeOut.org/resources, If you can't find what you're looking for, just hit "reply" to this email and we'll get back to you soon. You can also review our recently revised Frequently Asked Questions page at ShakeOut.org/faq.
Visit ShakeOut California at https://www.shakeout.org/california/