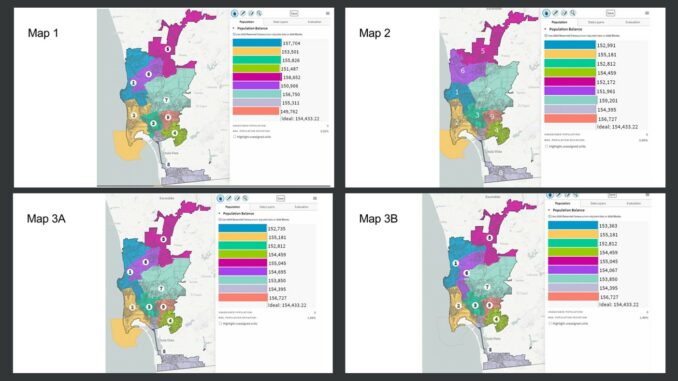 The (City of San Diego City Council) Redistricting Commission will review the Preliminary Citywide Maps and Provide Instructions for HaystaqDNA to Consolidate to a Single Map on Thursday, October 21, beginning at 6 PM. This is a public meeting and all are invited to participate.
The live broadcast of the October 21, 6 PM meeting, is publicly available on Zoom Webinar: https://sandiego.zoomgov.com/j/1614685604
Background: The City Charter requires the creation of a Redistricting Commission at the beginning of each decade, after the U.S. Census, to adopt plans which specify the boundaries of districts for the City Council. This process takes place independently of the City Council and Mayor's Office. Districts must be comprised of contiguous territory and made as equal in population as shown by the Census reports, and as geographically compact as possible. It also requires that the districts shall, as far as possible, be bounded by natural boundaries, street lines, and/or City boundary lines. The Charter requires that the districts be drawn to provide fair and effective representation for all citizens of the City, including racial, ethnic, and language minorities. Additionally, to the extent possible, they preserve identifiable communities of interest. The redrawing of district boundaries is designed to ensure local legislatures are representative of the City's diverse population.
Illustration of the four Preliminary Maps is current as of October 19, 2021. For more information and to view full-sized maps, visit sandiego.gov/redistricting-commission.
Now is the time to get involved; Redistricting Commissioners are voting on the Preliminary Maps on November 4; and on the Final Map on December 15. Check the Redistricting Commission website for meeting details and Zoom links. Redistricting Commission Special Meetings and Public Hearings include:
Thursday, October 21, 2021, 6:00pm: Commission to review the 2-3 maps that HaystaqDNA creates. After public comment, Commission provides feedback to HaystaqDNA to consolidate to one map.
Thursday, October 28, 2021, 5:30pm: Commission reviews/provides final feedback on consolidated single map.
Thursday, November 4, 2021, 5:30pm: Redistricting Commission votes on Preliminary Map with written statement of findings and reasons for adoption including the criteria employed in the process and a full analysis and explanation of decisions. Once approved, submit to the City Clerk.
Tuesday, November 9, 2021, 5:30pm: Preliminary Map Hearing 1
Saturday, November 13, 2021, 2:00pm: Preliminary Map Hearing 2
Tuesday, November 16, 2021, 5:30pm: Preliminary Map Hearing 3
Thursday, November 18, 2021, 3:00pm: Redistricting Commission Meeting
Wednesday, December 1, 2021, 5:30pm: Preliminary Map hearing 4
Tuesday, December 7, 2021, 5:30pm: Preliminary Mapping hearing 5
Wednesday, December 15, 2021, 5:30pm: Commissioners will be voting on the final map.
Thursday, December 16, 2021, 3:00pm: Redistricting Commission Meeting