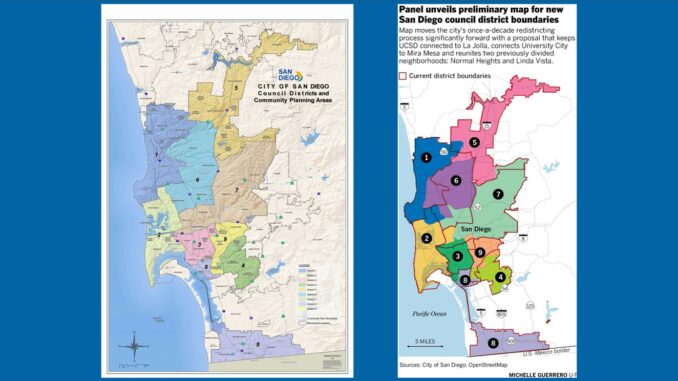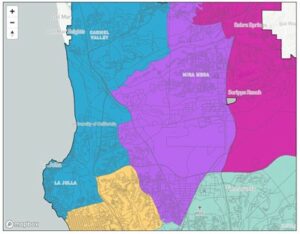 Update 5:15 pm, 10/25/2021: The Redistricting Commission Chair has released an updated map that divides University City into two sections – east and west – at Genesee Avenue and at Eastgate Mall. Take a look and provide feedback at https://portal.sandiego-mapping.org/submission/p6030
Please note: The 10/25/2021 updated map and comments do not display properly on mobile devices. Please use a laptop or desktop computer.
---
As published by the Union Tribune 10/22/2021: A volunteer panel redrawing San Diego's City Council district boundaries has unveiled a preliminary map that would keep UC San Diego connected to La Jolla and divide Clairemont among four council districts.
The map would also unite Normal Heights in District 9, unite Linda Vista in District 2, re-connect Park Village with Rancho Penasquitos in District 5 and reorganize several southeastern neighborhoods based on ethnicity and social connections. It also would sever University City from La Jolla and UCSD, connecting the community instead to Mira Mesa and the Convoy area in a dramatically redrawn District 6 that would be 38.3 percent Asian.
---
---
Now is the time to get involved; the next meeting is Thursday, October 28. The Redistricting Commissioners are voting on the Preliminary Maps on November 4; and on the Final Map on December 15.  Check the Redistricting Commission website for meeting details and Zoom links. Redistricting Commission Special Meetings and Public Hearings include:
Thursday, October 28, 2021, 5:30pm: Commission reviews/provides final feedback on consolidated single map. Join meeting via Zoom at https://sandiego.zoomgov.com/j/1610623931.

Friday, October 29,  10 a.m.: The Redistricting Commission special meeting of Thursday, October 28 has been adjourned (and continued) to

Friday, October 29 at 10 a.m.

You can access the Zoom link by clicking on the following:

Thursday, November 4, 2021, 5:30pm: Redistricting Commission votes on Preliminary Map with written statement of findings and reasons for adoption including the criteria employed in the process and a full analysis and explanation of decisions. Once approved, submit to the City Clerk.
Tuesday, November 9, 2021, 5:30pm: Preliminary Map Hearing 1
Saturday, November 13, 2021, 2:00pm: Preliminary Map Hearing 2
Tuesday, November 16, 2021, 5:30pm: Preliminary Map Hearing 3
Thursday, November 18, 2021, 3:00pm: Redistricting Commission Meeting
Wednesday, December 1, 2021, 5:30pm: Preliminary Map hearing 4
Tuesday, December 7, 2021, 5:30pm: Preliminary Mapping hearing 5
Wednesday, December 15, 2021, 5:30pm: Commissioners will be voting on the final map.
Thursday, December 16, 2021, 3:00pm: Redistricting Commission Meeting