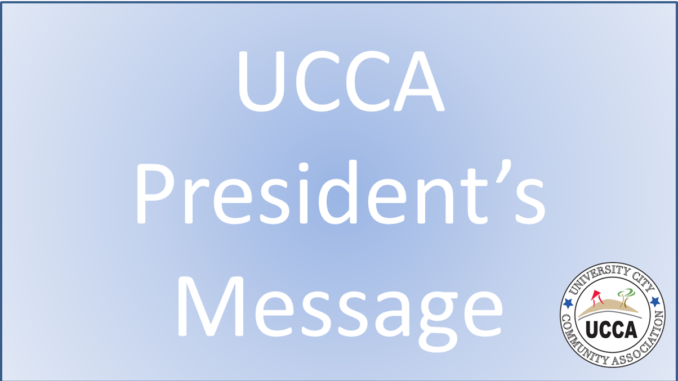 Update November 9, 2021: For recent news related to Redistricting, the online Community Survey, and UCCA's meeting and election (as well as the planning group UCPG meeting and eletion), visit the following: 
---

Update November 4, 2021: The November 4 meeting has been continued and will reconvene on Tuesday, November 9, 2021. The Commissions are expected to consider two maps – the Chairs map and the Collaboration map. For information, visit https://www.universitycitynews.org/2021/11/06/tues-nov-9-redistricting-commission-meeting-continues-at-530-pm-via-zoom-webinar/
---
Update 5:15 pm, 10/25/2021: The Redistricting Commission Chair has released an updated map that divides University City into two sections – east and west – at Genesee Avenue and at Eastgate Mall. Take a look and provide feedback at https://portal.sandiego-mapping.org/submission/p6030 The updated map and comments do not display properly on mobile devices. Please use a laptop or desktop computer.
---
From University City Community Association (UCCA) president Barry Bernstein with three Urgent News items.
City Redistricting Commission Meeting! Thursday, Oct. 28…5:30 p.m ZOOM LINK HERE. Please call-in OR send an email to the committee supporting UCPG and UCCA's position to keep all of University City in District #1.  Our website will have additional information at: universitycitynews.org
The City's online community planning survey ends on Oct. 31. Please go  to community online survey here OR pick up the hardcopy at either of our two U.C. libraries.  It only takes a few minutes to fill out….and you only need to fill out the area of U.C. in which you feel most familiar.
UCCA'S ELECTION OF OFFICERS– WEDNESDAY, NOV. 10th. Please note, the following information is an update/change from what you will be reading in our November newsletter….please notice the CHANGE of NOMINEES.
President – Diane Ahern
Vice President – Mack Langston
Treasurer – Jemma Samala
Secretary – Jim Beshears
 *CURRENT UCCA Members ONLY are eligible to vote. Online Voting begins on Monday, November 8th.
Please email Don Hotz at: don.hotz@yahoo.com for your ballot OR come for IN-PERSON VOTING at our library beginning at 5:30 p.m on Wed. Nov. 10th. Election results will be announced at 7:45 following our regular November UCCA meeting.
If you are interested in having your name placed on the ballot or nominating a UCCA member please contact Mack Langston by 10/29 at: langstonmack@gmail.com.  There will be a place for "write-in" candidates on both the online and in-person ballot.
BE SAFE AND BE WELL!
Sincerely,
Barry Bernstein
UCCA President
For more information on the University City Community Plan update: Community Plan Survey