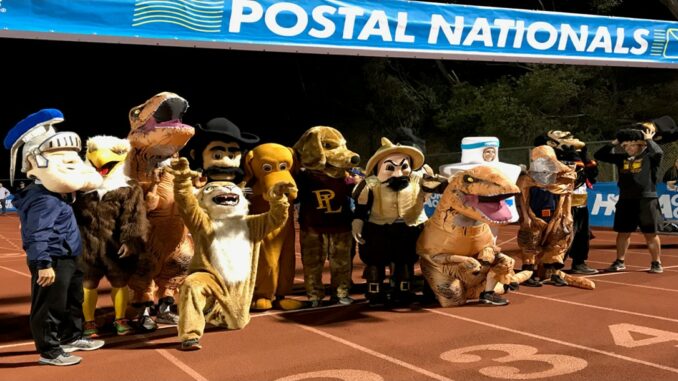 Courtesy of Julie Halter: The UC High School Postal 2-Mile Championship is coming up on Saturday, October 30, on the track at University City High School, 6949 Genesee Ave, San Diego, CA 92122.
You're invited to the UC Postal 2-Mile Championship on Saturday October 30th from 3:30-8:30 pm. Hosted by the UC Cross Country Team, this flagship event is an amazing chance for athletes to run under the lights at the UCHS track with some rockin' music.
There are 34 high schools participating this year with 800+ athletes racing and lots of enthusiastic fans. San Diego distance runners will submit their 2-mile race results to compete with athletes from all over the nation! CIF sanctioned.
Spectator friendly. Don't miss the hilarious school mascot race at 7:30 pm! Cheer for your favorite T-Rex or Centurion. Middle School 1-mile race at 3:00 pm, spread the word. Come join the fun! Hope to see you there!
---
For more information about Postal Nationals, visit https://www.hokaoneonepostalnationals.com/gprofile.php?do=title&title_id=845&mgroup_id=46034
For more information about the high school, visit https://uchs.sandiegounified.org/