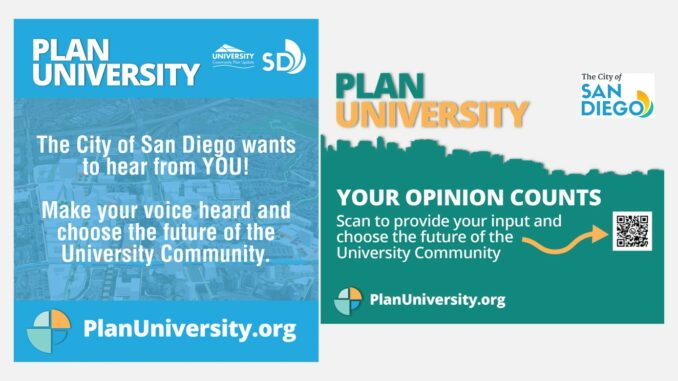 Please don't miss this opportunity to shape the future of University City. From the Planning Department: The City of San Diego is currently in the process of updating the University Community Plan, which was last updated in 1987. The updated Community Plan will provide direction for the long-term development of the community, including concepts for land use, urban design, parks, mobility, jobs, and housing. To provide your input, visit https://www.planuniversity.org/engage
Through this process, the University Community Plan Update planning team has held over 30 meetings with the University Community Plan Update Subcommittee to seek guidance on these concepts and ideas for the plan update. Recently, this process included the creation of land use options that will guide the use and mix of development within the University Community.
Now is your opportunity to review these land use options and make your voice heard. The planning team has launched the University Online Engagement Platform: Choose Your Community!, which proposes two or three Land Use Options for change within five focus areas. The five focus areas are shown in the photo gallery below. Details of each option are shown and described on the survey available at https://www.planuniversity.org/engage. 
The Land Use Options survey will remain open until October 31st. For more information, please visit https://www.planuniversity.org/
[Best_Wordpress_Gallery id="96″ gal_title="Five Focus Areas"]