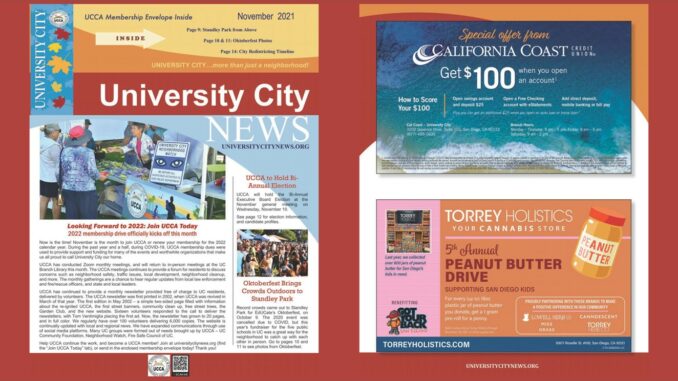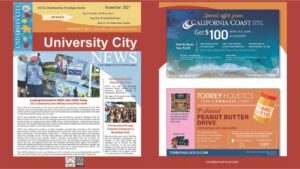 Hello University City! The 2021 November print University City New newsletter is available for download as a PDF. UCCA volunteers are delivering the print newsletter to homes and businesses in our area this weekend. Print versions are available for pickup at the Recreation Center, Library, and Laundromat on Governor Drive. The PDF version is now available for download as a PDF at https://www.universitycitynews.org/ucca-newsletter-archives/
This month's cover stories features photos from EdUCate's Oktoberfest; this month's back cover advertisers are California Coast Credit Union and Torrey Holistics. Thank you to all our community volunteers, contributors, and advertisers who help to make our hyper-local University City News print newsletter possible.
The November issue is UCCA's election issue; UCCA's election of officers (president, vice-president, treasurer, and secretary) will take place on Wednesday, November 10. There has been a candidate change for the treasurer position since the newsletter went to print.
The current nominees for officer positions are:
President – Diane Ahern
Vice President – Mack Langston
Treasurer – Jemma Samala
Secretary – Jim Beshears
Current UCCA members are eligible to vote and online voting begins on Monday, November 8th. If you'd like to vote online, please email Don Hotz at don.hotz@yahoo.com for your ballot. You may vote in person at the University Community Library, 4155 Governor Drive, beginning at 5:30 p.m on Wednesday, November 10. The election results will be announced at 7:45 following our regular November UCCA meeting.
If you are interested in having your name placed on the ballot or nominating a UCCA member please contact Mack Langston at langstonmack@gmail.com. There will be a place for "write-in" candidates on both the online and in-person ballot. For more election and eligibility information, review the UCCA bylaws at https://www.universitycitynews.org/wp-content/uploads/2018/12/UCCA-Bylaws-approved-November-2018.pdf