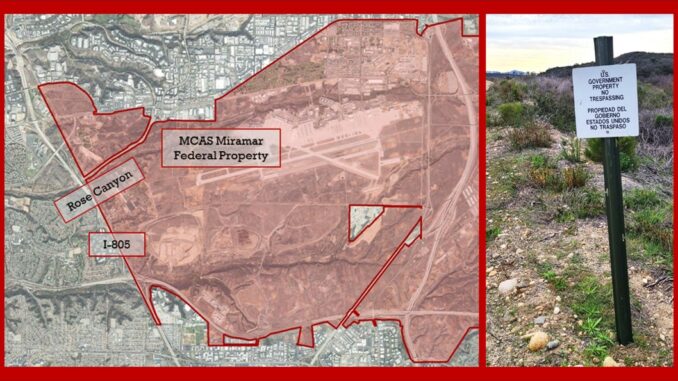 From Marine Corps Air Station (MCAS) Miramar: The base is experiencing a high volume of individuals trespassing east of the I-805 near the VA Cemetery. While there is a small section of City of San Diego open space east of the I-805, MCAS Miramar's federal property boundary is located a short distance away (see shaded areas on map). Mountain bikers and hikers recreating in Rose Canyon are not authorized to continue eastbound onto federal property, which includes the VA Cemetery northwest of the railroad tracks and the area southeast of the tracks.
Additional "U.S. Government Property – No Trespassing" signs have been installed and the base is asking local residents to be aware of and comply with these signs located at the federal property boundary. The Provost Marshal's Office and MCAS Miramar military police officers will be stepping up enforcement of federal trespassing laws in that area. Unlike the Stowe Trail areas east of MCAS Miramar, there are no current or future plans for community or civilian access to these areas east of the I-805.
A federal trespassing citation requires an appearance in federal court and is considered a federal misdemeanor crime. Bicycles or other equipment may be seized and held until court cases are adjudicated by a federal judge.
For more information, contact the Provost Marshal's Office at 858-307-4068 or email Miramarcomrel@usmc.mil.