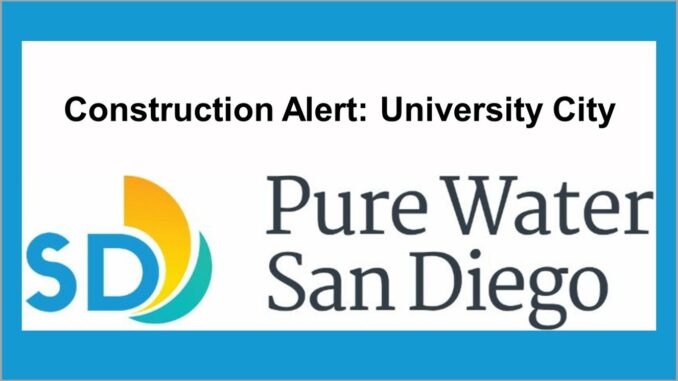 From Pure Water San Diego:
Genesee Avenue – Underground utility investigation work along southbound Genesee Avenue between Nobel Drive and Decoro Street will be completed by this Friday, March 25. Crews will be working from 9 p.m. to 5 a.m. from March 24 (Thursday night) into Friday morning.
Executive Drive – Utility relocation work will continue near the end of Executive Drive in the cul-de-sac from 9 p.m. to 5 a.m. The start of tunneling shaft excavation is scheduled to start within the next few weeks in the cul-de-sac. Prior to the start of the excavation, K-rail barriers will be placed around the location of the shaft for public safety. Flaggers will be on-site to assist if needed. Work hours will be from 9 p.m. to 5 a.m.
Towne Centre Drive and Nobel Drive – The next phase of underground utility investigation work is anticipated to begin in April. This work will occur during the daytime from 8:30 a.m. to 3:30 p.m.
More information on this work will be provided on the Morena Northern Pipelines and Tunnels project webpage in coming weeks.
For questions or concerns, please visit https://www.sandiego.gov/public-utilities/sustainability/pure-water-sd/phase-1-projects/university-city-eastgate-mall; or reach out to the UC community liaison, Sarah Bowles, at sbowles@sandiego.gov.