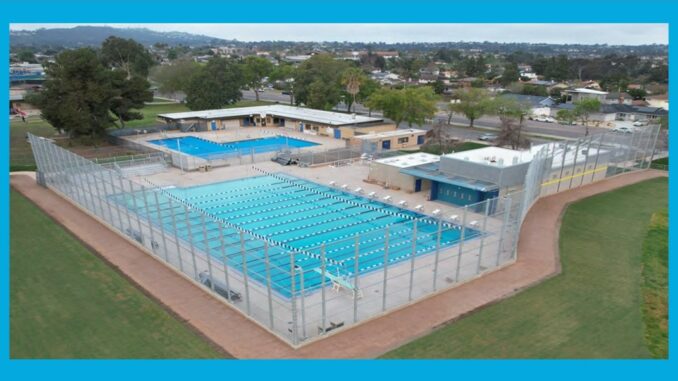 From San Diego Unified School District (SDUSD): Please join us! The Grand Opening Celebration is scheduled for Thursday, April 7, 2022 from 12:30 – 1:00 p.m. The public dedication for the Standley Middle School joint-use aquatics facility will include a performance from the University City High School (UCHS) cheer team and drumline, followed by brief comments from Board of Education Vice President Sabrina Bazzo, Former Board of Education Trustee Dr. John Lee Evans, City of San Diego Councilmember Joe LaCava, both the Standley Middle and UCHS principals, and a UCHS swimmer. To end the ceremony, speakers will join students for a ribbon-cutting countdown and a group of UCHS swim team members will dive into the pool for a celebratory lap.
A highly anticipated project for the University City community and nearby schools, the expanded aquatic center includes a new pool, and a pool amenities building with outdoor showers, changing rooms, and restrooms.  The project is part of the Play All Day partnership between the San Diego Unified School District and the City of San Diego.
The use of the joint-use pool will be shared with times that are exclusive school district use and other times that the pool will be open for public use. The tentative public opening of the Standley Aquatic Center joint-use pool is at the end of April.
SDUSD contact: For more information about the Grand Opening Celebration, contact San Diego Unified School District at Jamie Ries at jries@sandi.net
Parks & Rec contact: For more information about the public opening of the joint-use pool, contact Standley Parks and Recreation Pool Manager Saunia Kammerer at SKammerer@sandiego.gov
For related posts, visit https://www.universitycitynews.org/category/parks-recreation-dept/
For background information and history, visit https://www.universitycitynews.org/category/imagine-uc-2020/ and https://www.universitycitynews.org/imagine-uc-2020-sdusd-school-facilities-project/