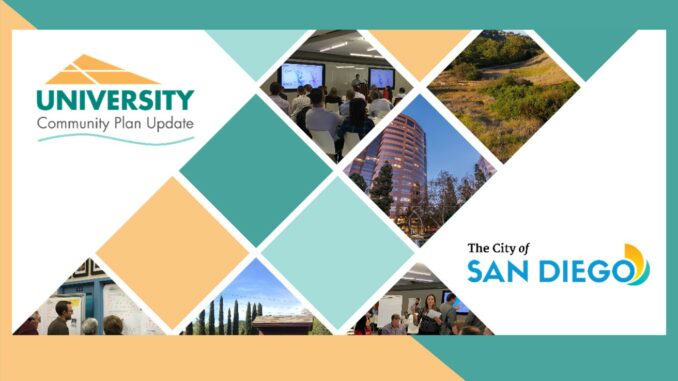 From Community Planner Nancy Graham, AICP: In February 2022, the Planning Department shared draft land use scenario alternatives for North University City and South University City for discussion at the University Community Plan Update (CPU) Subcommittee meeting. We very much appreciate all the feedback we have heard. It is important to remember the scenarios are in draft form for potential consideration and to gather continuing feedback from the public. No final decisions have been made at this time.
We are continuing to review the public feedback we've received throughout the CPU process, including the recent feedback received since the February meeting. We plan to provide updates at an in-person May subcommittee meeting and then continue to hold additional outreach opportunities. We will announce the location of the May meeting soon.
With the additional input, a Community Discussion Draft Community Plan is anticipated to be released in late Summer 2022 and will then be followed by the Draft CPU. Once the Draft CPU is released, there will be further opportunities for public input, including additional subcommittee meetings. These will take place before the CPU is presented to the City Council for adoption consideration. Public hearings for the CPU are anticipated to begin around Spring/Summer 2023.
For related posts, visit https://www.universitycitynews.org/category/ucpu/