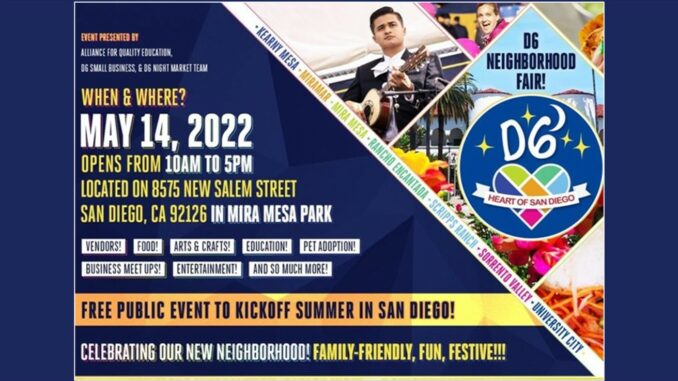 The D6 Neighborhood Fair invites University City to celebrate our new neighborhood at the D6 Celebration of Neighborhood Fair on May 14, 2022, from 10 AM to 5 PM, at at the Mira Mesa Community Park, located at 8575 New Salem, St., San Diego, CA 92126.
The D6 Neighborhood Fair is a way to bring the community together after the disruptions in our lives due to the Covid-19 pandemic. It will remain a free, family-friendly, festive, and fun event with lots of activities, food vendors, commercial vendors, civic groups, business meetups, pet adoption, arts & crafts, music, and performances with dance competitions.
The fair will also dedicate an area for kids – FUNtastic Kids Zone with many fun activities. Catch performances representing some of the finest and most entertaining that District 6 which is in the "Heart of San Diego" has to offer!
For more information about the Neighborhood Fair Events & Entertainment, visit https://d6nightmarket.com/d6-neighborhood-fair/
Please note that University City east of I-5 will vote in the District 6 June primary and November general elections.  For more information, visit https://www.universitycitynews.org/category/elections/