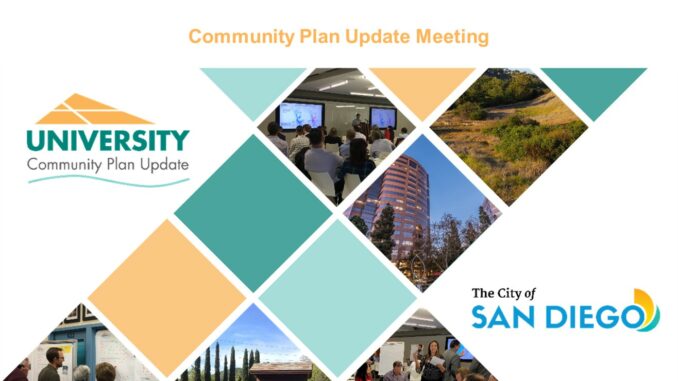 Update: University City Community Association (UCCA) was able to capture 1 hour, 48 minutes of the Community Plan Update Subcommittee (CPUS) meeting that was held on May 17 at the University City High School (UCHS) auditorium. In case you missed it, the Facebook Live Stream recording is available on UCCA's Facebook at https://fb.watch/d4ElzvhlAQ/
---
From Nancy Graham, Planning Department, Supervising Project Manager, in an email statement dated 5/12/2022: The Planning Department thanks everyone who has taken the time to attend the University City Community Plan Update meetings, review the draft land use scenarios, and provide your feedback. We understand that the land use scenarios represent in some instances big changes; particularly, to some single-family neighborhoods in South University City.
The change to the single-family zoning was introduced by the City to reflect greater clarity and opportunity to implement the City's recent adoption of Senate Bill 9. The Planning Department, the Mayor, and Councilmember Joe LaCava understand that by and large, the community disagrees. Further, we understand the community believes existing SB 9 regulations better suit your neighborhood than the proposed upzoning. Continued discussion of zoning for South University City detracts from the important conversations and decisions on the remainder of the Plan Update. We will move forward only with the University Community Plan Update land use scenarios focused on North University City and the commercial centers and office uses in South University City. No changes will be included for the residential uses in South University City.
San Diego's housing challenges are great, and we look forward to working with University City and communities across the City to provide more home opportunities aligned with the City's housing, climate, and equity goals.
We look forward to continuing Community Plan Update conversations with you next week for an in-person Open House/CPG Community Plan Update Subcommittee Meeting on Tuesday, May 17 6:00 – 9:00 p.m. at the University City High School Auditorium. The open house portion will be from 6:00 – 7:00 p.m. to share the maps and renderings that have been prepared for the plan update. And then beginning at 7:00 p.m., we look forward to discussing potential areas for public spaces opportunities in the community. Please note that we are also working to provide an option for a live web feed. If we are able to provide one, we will distribute access instructions as soon as possible.
---
NEXT MEETING: Please join us for the University Community Plan Update Subcommittee Meeting scheduled for Tuesday, May 17, 2022 at the University City High School Theater located at 6949 Genesee Ave, San Diego, CA 92122. The meeting focus will be on future opportunities for public spaces. Please note that this event will be in-person and will follow the format below:
6 p.m. to 7 p.m. – Open House in Exterior Courtyard with the City Project Team
7 p.m. to 9 p.m. – Meeting of the University Community Plan Update Subcommittee in the Theater
Register Now at: https://www.planuniversity.org/meetings
---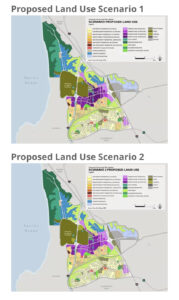 The City of San Diego has developed proposed land use scenarios for further study. Please view the proposed scenarios and contact the project team with any questions. (draft scenarios as of 5/11/2022).
The updated land use scenarios reflect the removal of upzoning of single-family home properties on Governor Drive. Available in high resolution at https://www.planuniversity.org/materials
---
For related posts, visit https://www.universitycitynews.org/category/ucpu/