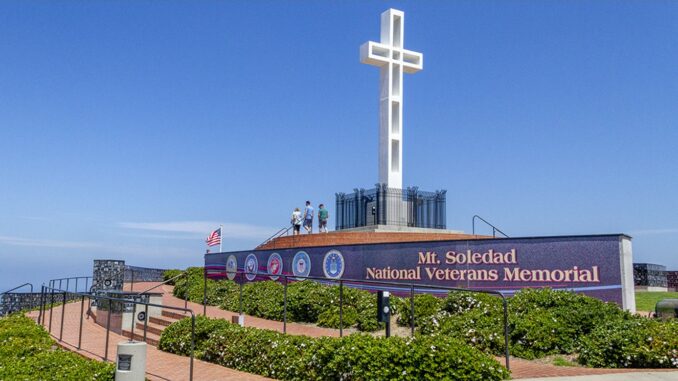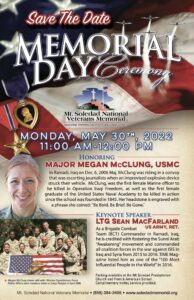 From Mt. Soledad National Veterans Memorial: The Mt. Soledad National Veterans Memorial will honor Marine Corps Major Megan McClung and our nation's heroes through a live and virtual tribute event on May 30 from 11 a.m. to 12 p.m. (PDT).
McClung was the first female Marine officer to be killed in Operation Iraqi Freedom, as well as the first female graduate of the United States Naval Academy to be killed in action since the school was founded in 1845. Major McClung was serving as a Public Affairs Officer in Al Anbar Province, Iraq. We are honored to host Megan's family, many of the Public Affairs Officers that served with her, and the United States Naval Academy Alumni Association.
Our Keynote Speaker will be Lieutenant General Sean MacFarland, a retired three-star general who served in the United States Army. As a brigade combat team commander in Ramadi, Iraq, he is credited with fostering the Sunni Arab "Awakening" movement, which was instrumental in turning the tide of the war. While commanding III Corps, he also commanded all coalition forces in the war against ISIS in Iraq and Syria from 2015 to 2016, during which time coalition forces seized the initiative, recaptured nearly half of the enemy's territory and set the conditions for the enemy's final defeat. He was named one of Time's 100 Most Influential Persons of 2016.
The live and online commemoration will be hosted by former News Anchor Marc Bailey and will include musical performances, a wreath laying, and missing-man flyby. 
For more information, visit https://soledadmemorial.org/