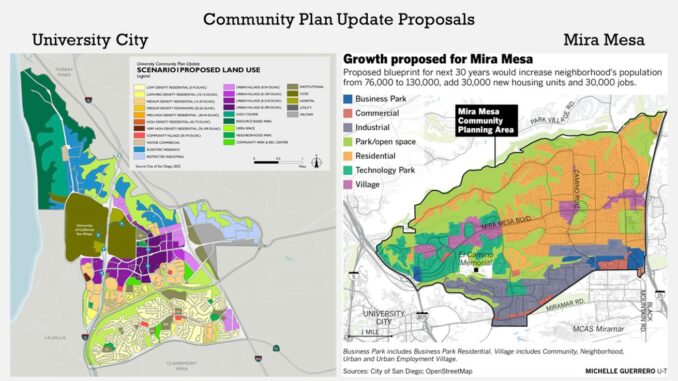 From University City Community Association President Diane Ahern: Did you know that our neighbors to the east, Mira Mesa and Sorrento Valley, are undergoing a Community Plan Update just as we are in University City? The City Planning Department has presented scenarios that would change our communities forever, both the Mira Mesa and University City areas, with proposed development and increased density.
For related information, refer to a recent SD Union-Tribune article: 'Urban villages,' an aerial skyway and 50,000 more people: Is this the future of Mira Mesa? https://www.sandiegouniontribune.com/news/politics/story/2022-08-07/mira-mesa-growth-blueprint
While the University City community plan update committee does not meet in August, there are two Zoom meetings on Monday evening, August 15, 2022, related to the Mira Mesa / Sorrento Valley Community Plan Update. These meetings are open to the public and all are welcome.
Mon, Aug 15, 5:30 pm: Mira Mesa Community Plan Update
Mon, Aug 15, 7:00 pm – Mira Mesa Planning Group
The University City Community Plan Update Subcommittee will not meet in August 2022. For the latest information on Community Planning in University City, visit these City websites:
University City Community Association (UCCA) does not host a meeting in August 2022. Our next meeting is scheduled for the 2nd Wednesday of the month, Wednesday, September 14, at 6 PM. We are expecting a presentation on the University City Pure Water Construction Project and the Kitchen Waste Recycling Program.
For the most up-to-date University City News, visit our website at https://www.universitycitynews.org/
Follow us on Facebook at https://www.facebook.com/UniversityCityCommunityAssociation/