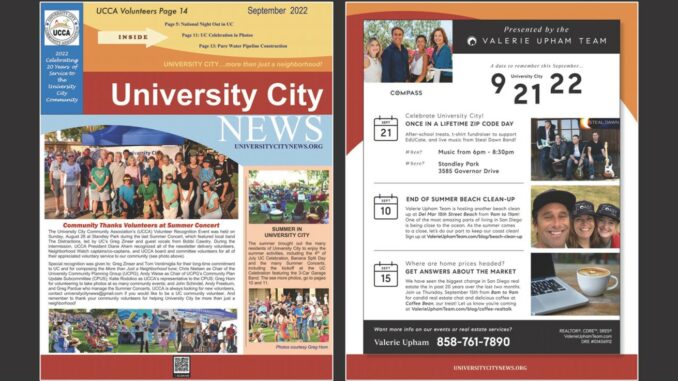 The September 2022 newsletter (PDF version) is now online and available to read, print, and share with family and friends. The print version of the newsletter will be available for distribution this weekend. While you wait, you can pick up a print copy at the Library or Recreation Center on Governor on Thursday afternoon; or view, share, and download the PDF version.
---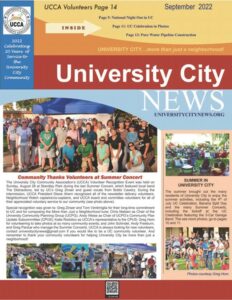 From University City Community Association president Diane Ahern: Hello University City, we're back! UCCA took a break in August and now we're back stronger than ever with both a print newsletter (thanks so much for reading) and our community association meeting on September 14 (we look forward to seeing you).
Longtime UCCA volunteer Hallie Burch has decided to step down from her role as membership chair. We thank her for her years of service to University City. We wish her a fond farewell and look forward to seeing her around the community. Her leaving means we have an opening on our board for a membership chair. If you're interested, please contact me at UniversityCityNews@gmail.com.
What a fun Summer 2022 has been. The UC Celebration, the Summer Concerts, National Night Out, Volunteer Appreciation Night, and the Banana Split Ice Cream Social are just a few of the many family-friendly events. You'll find many pictures and happy memories throughout this issue.
We have a lot to look forward to this month. September begins with the big Labor Day holiday early in the month. We all look forward to school activities, community events, and special days fill our calendars this month. You'll find many highlighted in this issue as well. Please check out our Save the Date short list summary.
I urge everyone to attend the Planning Group meeting on Tuesday, September 13; the Community Association meeting on Wednesday, September 14; and the Community Plan Update meeting on Tuesday, September 20.
On Wednesday, September 21, 2022 (9-21-22), the University City Post Office will commemorate a once-a-century alignment of the date on the calendar – 9-21-22 — with its ZIP Code — 92122.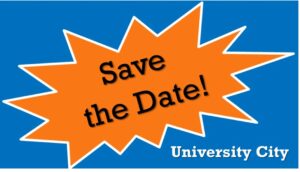 The MCAS Miramar Air Show returns after a two-year COVID-related hiatus with practice day on Thursday, September 22, and air show, tech expo, and ground displays on post on September 23-25.
To close out the month, the Jewish holiday of Rosh Hashanah begins Sunday, September 25 and ends in the evening of Tuesday, September 27.
As we look forward to October and November, please keep in mind that every active registered voter will automatically receive a ballot in the mail for the Statewide General Election beginning October 8. You can check your registration status today at sdvote.com.
In this September 2022 issue of University City News, you'll find news and features you won't find anywhere else. You'll find even more, including agendas for many community meetings, on our website at UniversityCityNews.org. Thank you for reading. Have a great September; I hope to see you at many our community events and meetings this month.
PS – Check out our University City Save the Date for more meeting and event information; https://www.universitycitynews.org/category/events/
---
UCCA will hold a public meeting via Zoom on Wednesday, 14, at 6:00pm. Please join us.
Topic: UCCA's September 14 Community Meeting
Time: Wed, Sep 14, 2022 06:00 PM
Join Zoom Meeting:

Meeting ID: 830 8722 6977
Passcode: 664068

Phone users, dial in and follow prompts: +1 669 900 6833