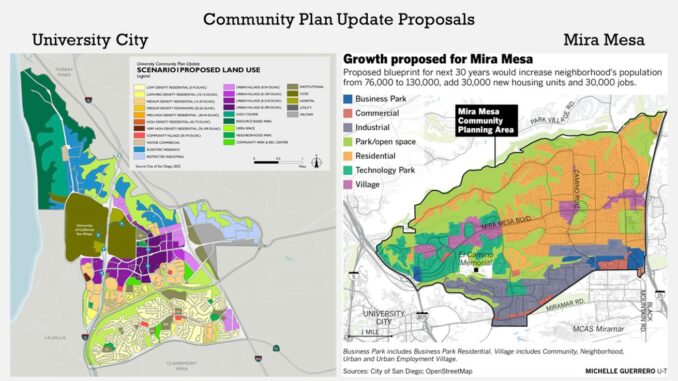 From University City Community Association President Diane Ahern: Mira Mesa/Sorrento Valley are currently undergoing a Community Plan Update just as we are in University City.  The City Planning Department has presented scenarios that would change our communities forever, both the Mira Mesa and University City areas, with proposed development and increased density.
The Mira Mesa/Sorrento Valley plan update is nearer completion than the University City plan update. While the University City Community Plan Update Subcommittee CPUS is scheduled to meet on Tuesday, October 18, the Mira Mesa Community Planning Group CPG is likely to vote on the Mira Mesa/Sorrento Valley Community Plan Update recommendation on Monday, October 17.
It should go without saying … the result of a Mira Mesa vote on Monday will impact the University City Community Plan Update.
Monday, October 17, 2022: 
Tuesday, October 18. 2022: