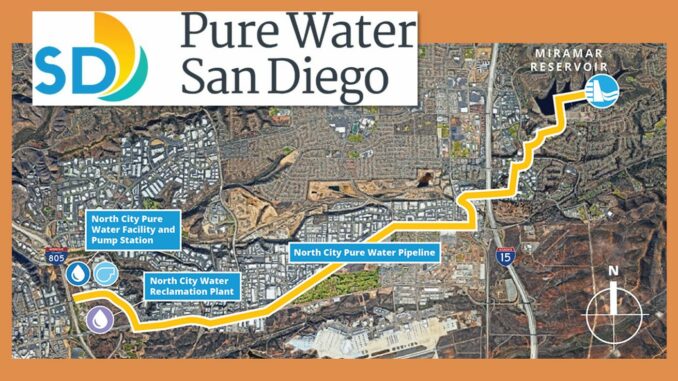 From Sarah Rossetto, Community Liaison, Public Utilities Department: During the week of Oct. 31, pipeline construction is scheduled to begin on the City of San Diego North City Pure Water Pipeline project on Miramar Road at Black Mountain Road toward the Marine Corps Air Station Miramar gate at Clayton Drive/Mitscher Way.
What to Expect: Construction will include trenching and pipe installation, backfilling and trench restoration, as well as hauling of various materials. Pipeline construction will move westbound on Miramar Road from Black Mountain Road to Clayton Drive/Mitscher Way, with future sections on Miramar Road scheduled to begin later in 2022 and through 2025. Construction will include one primary pipeline construction crew, with a support crew completing restoration work after each section of pipeline is completed on Miramar Road. Construction activity between Black Mountain Road and Clayton Drive/Mitscher Way is expected to take six to eight weeks.
Two-way traffic will be maintained on Miramar Road, and access will be maintained for Marine Corps Air Station Miramar personnel, businesses, residents and emergency responders. The project team will work to minimize inconveniences associated with traffic, construction noise and large construction equipment. For the safety of the community and construction crews, traffic control will be in place. Please follow all posted signage and crew member directions.
Miramar and Scripps Ranch Pure Water Notices: 
University City Pure Water Notices: