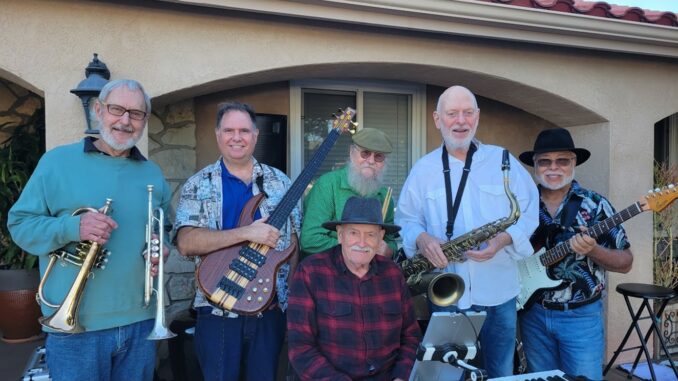 From Greg Pardue: Even though we 'fall back' to Standard Time on November 4th, the Front Porch Pandemic Jazz Jam will continue jamming into the new year. If you like classic jazz, swing, funk, blues, bossa nova and jazzy versions of classics from the Great American Songbook then this is for you.
Beginning Thursday, November 10, they will be jamming a little earlier, from 3:30 to 5:30 every Thursday. Of course, they will be dark on Thanksgiving and any Thursday with inclement weather.
You can find them at the 5600 block of Bloch St. in far west University City. Seating is on the sidewalks, driveways and edge of the street or in your car. Bring your own chairs or a blanket and don't forget a light jacket. Picnics, wine tasting and dancing are always popular. Pets are welcome on leash. Free for everyone, ages range from 2 to 92.
The musicians are Jack Hoffman-piano & drums, Roy Jenkins-bass, Phil Marcus-guitar & vocals (former UCHS & Standley Middle School music director), Ray Conseur-drums (former Standley MS 6th grade teacher), Greg Pardue-saxes and Jim Napier-trumpet. Many weeks there are guest musicians, sometimes from as far away as the east coast and Europe.