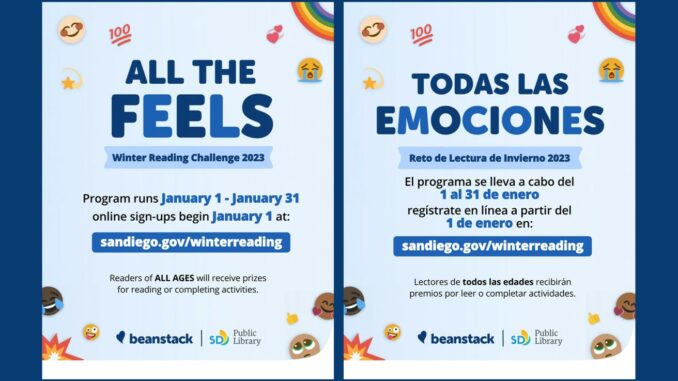 From San Diego Public Library: Start off the new year right by signing up for the 2023 Winter Reading Challenge! All the Feels encourages readers of all ages to feel, experience, and dive into how reading enlivens our emotions—all while earning digital badges and a prize!
Program Details
Program runs January 1st – January 31st
For readers of all ages
Read a combination of books, hours, or All the Feels activities to claim prizes.
Finisher Prizes for All Ages
Youth ages 0-11 will receive: San Diego Public Library branded "Design Your Own Lunch Box" and crayons
Teens and adults (ages 12+) will receive: San Diego Public Library branded cooler lunch bag
Prizes given while supplies last.
Activity Descriptions
Attend a program at the San Diego Public Library – Visit one of our locations to listen to a storytime, join in on a dance party, or learn how to make a fun craft!
Pass along a book to someone who may enjoy it – Have a book collecting dust on the bookshelf that you think someone else might enjoy?  Pass it along!
Take a break – Taking a moment to recharge alone gives you time to reflect on yourself and understand why you are feeling the way you are. Spend time away from a digital screen. You can take a walk outside, read a book, or even take a nap!
Express your feelings through art – Art can provide a very natural and safe way to express yourself. You can experiment, make a mess, create stories, use metaphors to represent feelings, explore alternative narratives, externalize feelings by creating characters, reflect, and share your art with others.
Spread Kindness – Helping others can boost happiness. Get out there and do something kind for someone else!
For more information and to register, visit: https://www.sandiego.gov/public-library/kidsandteens/winterreading
---
➡️ Please note: The University City News website and print newsletter are free to read but are not free to produce and print and maintain. UCCA membership dues, advertising revenue, and donations help to make both the website and print newsletter possible. Membership dues also support many events, projects, and activities (such as the December Holiday Celebration, the 4th of July UC Celebration, Summer Concerts, Oktoberfest, neighborhood watch, street median and utility box beautification) that make University City more than just a neighborhood.

 ➡️ Please join UCCA for 2023 at: https://www.universitycitynews.org/join-ucca-today/