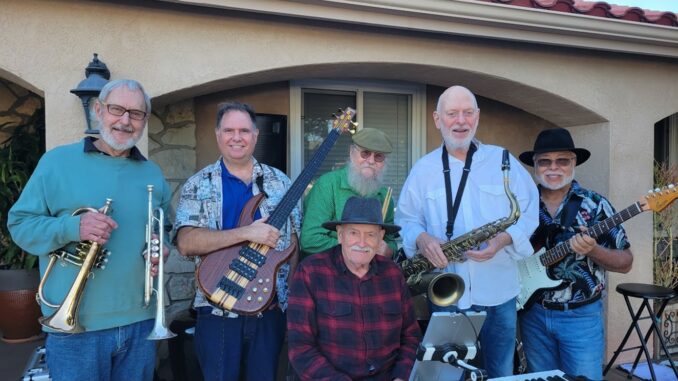 From Greg Pardue <gpardue@san.rr.com> and the Front Porch Pandemic Jazz Jam (FPPJJ):
The FPPJJ will jam on Thursday, December 28. The only change is, we'll be starting around 2:00 to 2:30 and ending by sundown, around 5:00. This allows us to be jamming and you to be enjoying the jazz while it's daytime and not too cold. As always, it's weather permitting.

It is also our intention to continue this schedule into the new year although we are discussing moving the Front Porch Pandemic Jazz Jam from Thursdays to a Saturday or Sunday afternoon so it's convenient for more jazz lovers. We're still not sure if this will work for all of us but please let us know if you have an opinion on this. As we move into warmer weather, we'll probably adjust the start and end times but rest assured, we'll let you know if there are any changes to the start time or day of the week.

The FPPJJ perform on a front porch in the 5600 block of Bloch St. in far west University City. Seating is on the sidewalks, driveways and edge of the street or in your car. Bring your own chairs or a blanket and don't forget a light jacket. Picnics, wine tasting and dancing are always popular. Pets are welcome on leash. Free for everyone, ages range from 2 to 92.

Thank you for your continuing support and hopefully we'll see you on Thursday, December and on into the new year.
Who: The Front Porch Pandemic Jazz Jam. The musicians are Jack Hoffman-piano & drums, Roy Jenkins-bass, Phil Marcus-guitar & vocals (former UCHS & Standley Middle School music director), Ray Conseur-drums (former Standley MS 6th grade teacher), Greg Pardue-saxes and Jim Napier-trumpet. Many weeks there are guest musicians, sometimes from as far away as the east coast and Europe.
Date: Thursday, December 29, 2022
Time: Approximately 2 PM to Sundown, weather permitting
Place: 5600 block of Bloch St in University City, San Diego, 92122
---
➡️ Please note: The University City News website and print newsletter are free to read but are not free to produce and print and maintain. UCCA membership dues, advertising revenue, and donations help to make both the website and print newsletter possible. Membership dues also support many events, projects, and activities (such as the December Holiday Celebration, the 4th of July UC Celebration, Summer Concerts, Oktoberfest, neighborhood watch, street median and utility box beautification) that make University City more than just a neighborhood.
 ➡️ Please join UCCA for 2023 at: https://www.universitycitynews.org/join-ucca-today/