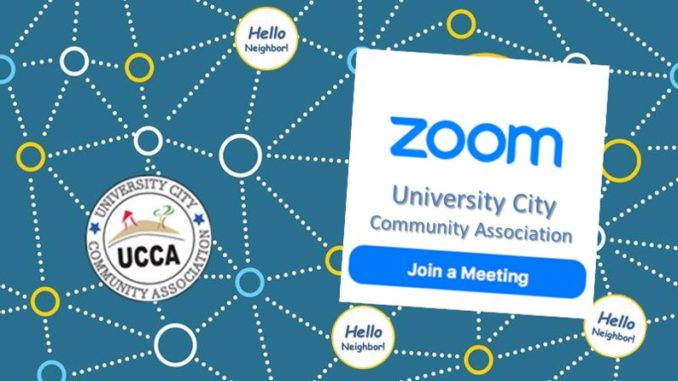 Hey University City; here's a preview of this month's community meetings:
These are public meetings and all are welcome to attend. For more University City News, visit: universitycitynews.org/
---
University City Community Association (UCCA) will meet on Wednesday, January 11,  at 6 PM via Zoom. Zoom link is at the end of this post.
This is a community meeting and all are welcome. Wednesday night's guest speakers include representatives of the University Community Library about the 50th anniversary celebration and announcements about Pure Water construction and the new Curbside Organic Green Recycling. In addition, we are expecting a representative of Doyle Elementary PTA and UCHS Centurion Foundation.
The community will hear updates related to upcoming community events, from the police department, planning group, community, and legislative representatives including city council, county, state and federal representatives. UCCA meetings also provide a public forum at which community interests may be expressed.
Why does UCCA host public meetings? It's part of UCCA's mission … to provide a forum where the interests of residents may be expressed and contributions made to the protection of life and property in the community. Our public forum includes the print newsletter, website and social media, community outreach, event support, and public meetings such as this Zoom meeting.
UCCA Preliminary Agenda: The REVISED preliminary agenda is posted below and available as a PDF: DRAFT – Jan 11 2023 – UCCA Agenda – REVISED If you have an agenda item to share or wish to speak during Open Forum, please contact us at UniversityCityNews@gmail.com. The Zoom information is at the end of this post.
REVISED! Due to the Mayor's State of the City Address, this agenda has been REVISED! Please see text below:
---
University City Community Association, January 11, 2022, 6 PM via Zoom
Revised Preliminary Agenda; if you have an agenda item to share or wish to speak during open forum, please email us at UniversityCityNews@gmail.com
6:01 PM Call to order
6:02 PM Approve Agenda – Vote
6:03 PM Legislative representatives – 2 minutes with Q&A
• Mayor Gloria – Michaela Valk
CM D6 Kent Lee – Sheldon Zemen
CM D1 Joe LaCava – Krissy Chan
US Representative Scott Peters – Rachel Dugan
CA Senator D40 – Brian Jones –
CA Assemblymember D77 – Tasha Boerner-Horvath –
County BOS D3 – Terra Lawson-Remer – Rachel Beck
SDUSD School Board – Cody Petterson
Elected Leaders/Reps
Others?
•
6:20 PM Public Safety
• Police Department – Officer Anderson Brown
• Fire Department
•
6:25 PM – President's Remarks – Diane Ahern
CM Kent Lee to attend UCCA's February meeting
Organic Waste Recycling – Green Recycling rollout in University City – for those who receive City ESD pickup on Mondays, the rollout is expected in June/July 2023. Reference: sandiego.gov/environmental-services/recycling/sb1383
Pure Water construction in University City –

Currently – Crews are working on integrating the traffic control at Towne Centre and Executive, and that work is scheduled over the next week or so. Then, crews will be working on Towne Centre and Executive for around 6-8 weeks, and that is scheduled as day work.
Coming Soon – Work on Genesee in University City. The Genesee traffic control plan is currently being reviewed by the City. Work will commence once the traffic control plan is approved. There will be a community meeting focused on Genesee, hopefully before work begins.
Reference for Pure Water University City: sandiego.gov/public-utilities/sustainability/pure-water-sd/phase-1-projects/university-city-eastgate-mall

UCCA Membership – Thanks so all who have already joined UCCA for 2023. Membership cards and a thank you gift to members will be mailed this week and you should get your membership envelope next week. For those who haven't had a chance to join up, there is information on our website at UniversityCityNews.org
MCAS Miramar has announced that the Air Show will return in late September. Construction is underway on base to build new F-35 aircraft hangers. Because of ongoing construction, there will be fewer visiting squadrons scheduled to train at Miramar this year and that may results in fewer training operations this year. However, there are more VIP visits scheduled this year so we may see more larger aircraft due to the VIP activity. Commanding Officer Cl Bedell is expected to visit with UCPG sometime this year to give a community brief.
6:35 PM Community Leaders / Open Forum – 3 minutes with Q&A
Melissa Martin, Library Manager – University Community Library
50th anniversary plans
Library Master Plan
Library expansion
Community Planning Group (UCPG) – Chris Nielsen
Community Plan Update Subcommittee (CPUS) – Katie Rodolico
Lisa Smith – Doyle Elementary – request for funding support for jog-athon
Nikki DeWinter & Coach Satriano – UCHS – request for funding support for boys lacrosse
Others?
6:55 PM Approve Minutes – Vote
7 PM Roll Call of UCCA Voting Members – Jim Beshears
UCCA Board Member and Committee Reports – 3 minute announcements and/or discussion
• Treasurer's Report – Jemma Samala – vote
• Membership Report – Julie Nydam – vote to approve her nomination as a voting board member of UCCA
• Budget Discussion – Jemma
• Committee Reports – Newsletter / Advertising revenue – Jemma & Terri
• Neighborhood Watch – Barbara
• Network of Town Councils – Diane
• Others?
• Others
7:20 PM
UCCA – Old Business / New Business?
•
7:30 PM
---
Meeting information: If you have an agenda item to share or wish to speak during open forum, please email us at UniversityCityNews@gmail.com.
University City Community Association (UCCA) meets Wednesday, January 11, 2023, at 6 PM via Zoom. Waiting room will open at approximately 5:50 PM.