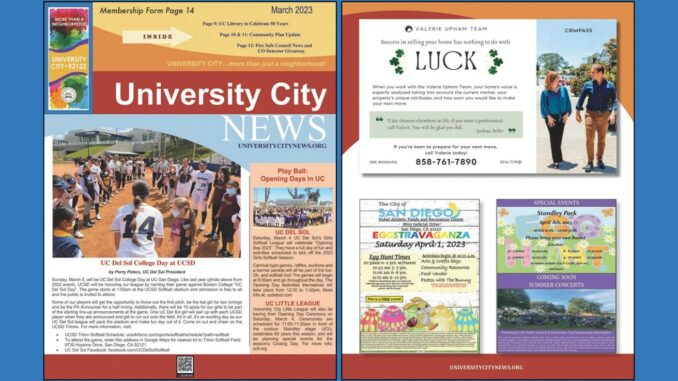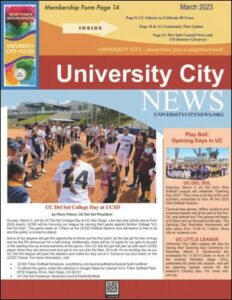 The March 2023 newsletter (PDF version) is now online and available to read, print, and share with family and friends. The print version of the newsletter will be available for distribution this weekend. Print versions will be available at the Libraries and Recreation Centers on Friday, March 3. Let's support our local businesses. UCCA urges all members to refer to the advertising section our of print newsletter for current promotions from our local advertisers. While you wait for your print copy, you can view, share, and download the PDF version: https://www.universitycitynews.org/ucca-newsletter-archives/
The University City News website and print newsletter are free to read but are not free to produce and print and maintain. UCCA membership dues, and advertising revenue, and donations help to make both the website and print newsletter possible. Membership dues also support many events, projects, and activities (such as the December Holiday Celebration, the 4th of July UC Celebration, Summer Concerts, Oktoberfest, neighborhood watch, street median and utility box beautification) that make University City more than just a neighborhood.
Join UCCA Today! Thank you if you have already joined or renewed for 2023. And if you haven't yet: send your check with the membership form on page 14 of the March print newsletter: or go to Join UCCA Today at and pay online with your credit or debit card.
Please visit our March Save the Date for Events and Meetings: https://www.universitycitynews.org/UCCA/March2023SaveTheDate
---
From UCCA's President Diane Ahern: It's March … and we're feeling lucky. We're fortunate to have supportive UCCA members, active volunteers, and loyal advertisers. You help support many of the events, activities and programs that make University City more than just a neighborhood.
It seems as though every month brings forth changes and March is no different. This month we're hoping for a change in the rainy and windy winter weather to warm and sunny skies. We also change to daylight saving time on March 12 (Spring forward), it's time to change into a green shirt (March 17), it's time to change the battery in your smoke detector, and it is probably time to change the filter on your furnace.
Has your American flag become tattered during the winter rain and wind storms? Don't forget that public libraries throughout San Diego provide U.S. flag disposal boxes to allow residents to properly and conveniently dispose of worn, faded or tattered U.S. flags.
If you haven't had a chance to attend a community meeting this year, March gives you plenty of opportunities. UCCA (our community association) will meet on the 2nd Wednesday, March 8, via Zoom; UCPG (the planning group) meets in-person on the 2nd Tuesday, March 14; and CPU meets the 3rd Wednesday, March 21.
Coldwell Banker is hosting their annual Shred-Fest on Saturday morning, March 11, in the Coldwell Banker Realty parking lot, 3959 Governor Drive; it's in the VONS Center. Councilmember Kent Lee (D6) is expected to attend a community meet and greet at Standley Park on Saturday morning, March 18, from 10 to 11.  The Fire Safe Council is hosting a Carbon Monoxide education and giveaway event on Saturday afternoon, March 18 at the North Library.  More information about these and other upcoming community meetings are within this newsletter and will be updated on our website and Facebook.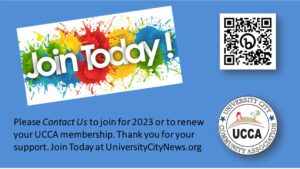 Our University City News print newsletter is unique. It is the only source of hyperlocal news in University City. You'll find news and features here that you won't find anywhere else including recaps of the UCCA (community association), UCPG (planning group), and CPU (the community plan update) subcommittee meetings. We thank all the UCCA members and newsletter advertisers who help to keep us in print. I'm confident that you, our readers, value the University City News as much as I do.
I hope to see you at the next University City Community Association meeting, held on the second Wednesday of the month. Our featured presentation for March will be an update on Pure Water construction on Genesee and in University City.
UCCA provides a forum where the interests of residents may be expressed and contributions made to the protection of life and property in the community. UCCA's public forum includes the print newsletter, website and social media, community outreach, event support, and public meetings. We have a lot to talk about. Thank you so much for helping to keep University City more than just a neighborhood.
The March Save the Date short list for University City is available at: https://www.universitycitynews.org/UCCA/March2023SaveTheDate
---
UCCA will host a Zoom meeting on Wednesday, March 8, at 6 PM. This is a public meeting and all are invited to participate.