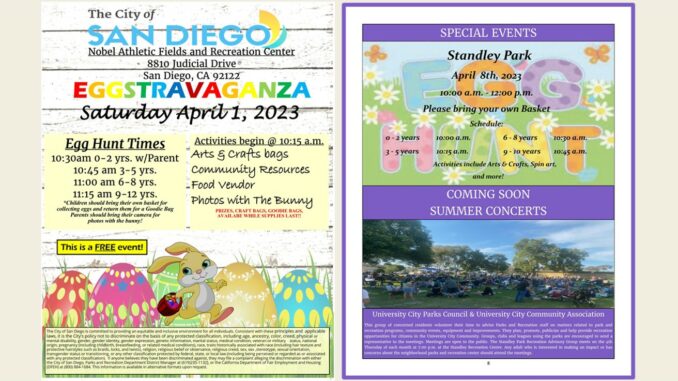 From Parks & Recreation: It may be cloudy and cold, but Spring has officially arrived and the City of San Diego's Parks and Recreation Department is ready to celebrate the season through spring-themed special events at recreation centers across the City during March and April. Various programs are planned including egg hunts, scavenger hunts, Earth Day celebrations and more beginning Thursday, March 23, and running through Saturday, April 22.
Save the Date! Nearly 50 events are planned at recreation centers and parks in all San Diego communities, with events scheduled at times throughout the day, including some evening programs in collaboration with Parks After Dark.
Kids of all ages are invited to participate in the free, family-friendly activities that are sure to be a "hopping" good time for the entire family. The City's recreation center webpage at: sandiego.gov/springfestival has a full list of upcoming Parks and Recreation spring events. Residents can also visit their local recreation center for more information.
The City of San Diego Parks and Recreation Department manages 60 recreation centers, 14 pools, seven skate parks and other recreational facilities that serve residents and visitors of all ages. For additional information regarding the recreation center's program guides and more, visit: sandiego.gov/parks-and-recreation.
Locally, this year's spring events include those at:
Nobel Recreation Center, Saturday, April 1, 10:15 – 11:30 a.m.
Doyle Recreation Center, Wednesday, April 5, Noon – 1:15 p.m.
La Jolla Recreation Center, Saturday, April 8, 11 a.m. – 2 p.m.
North Clairemont Recreation Center, Saturday, April 8, 9 – 11 a.m.
Standley Recreation Center, Saturday, April 8, 10 a.m. – Noon
South Clairemont Recreation Center, Saturday, April 22, 10 a.m. – Noon
---