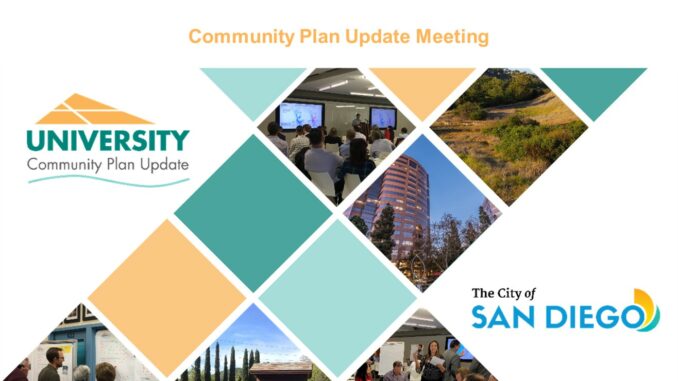 Update: We had an Internet connection fail and ended up with two recordings. Both are available on our Facebook at: https://www.facebook.com/UniversityCityCommunityAssociation
---
In-person meeting: The University Community Plan Update Subcommittee will meet on Tuesday, Mar. 21 at 6 p.m. at the University City High School – Media Center/Library Room located at 6949 Genesee Ave, San Diego, CA 92122. Please note that this meeting will be in-person and will focus on preparing a format for how the Subcommittee will provide feedback to the discussion draft University Community Plan.
This meeting will not be attended by City staff.
The discussion draft will be available for feedback in the coming weeks.
The following materials are available for review and are available on the project website: https://www.planuniversity.org/meetings
If you have any questions prior to the meeting, please contact the Chair of the University Community Plan Update Subcommittee, Andrew Wiese, at awiese@sdsu.edu.
Register Today for In-Person Meeting: Review the most recent land-use scenarios, provide feedback, and register for this meeting at: https://www.planuniversity.org/meetings
Facebook Live: This meeting will be Broadcast Live Stream to UCCA's Facebook at https://fb.me/e/OXtE7iAp
Please note that Facebook Live should not be considered interactive. There is at least a 10 second delay and possibly more depending on  connections. A Facebook LiveStream broadcast should be considered a view & listen opportunity for an off site audience. Those who want to interact with the subcommittee members should attend the in-person meeting.
Follow UCCA on Facebook at: https://www.facebook.com/UniversityCityCommunityAssociation