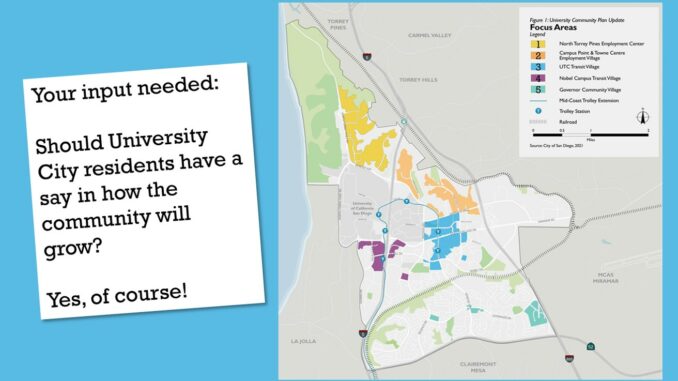 Update April 4, 2023:
Planning Department releases "Community Discussion Draft" for the University City Community Plan Update (CPU)
NOTE: On April 2, the Union Tribune published a letter to the editor with the headline: University City residents should have say in how their community will grow. The good news for University City residents is that the Planning Department is seeking community input. Please read on to learn how to submit suggestions.
From UCCA President Diane Ahern: It's April and we're looking forward to sunny warm weather, outdoor activities, another Aztecs victory, and a winning Padres season. April is Spring Egg Hunt Month and Earth Month and you'll find information in the April newsletter (available at: https://www.universitycitynews.org/ucca-newsletter-archives/) about upcoming events at our local parks and throughout San Diego. What a great time to get out with family and friends.
Looking ahead, our community plan update process continues to move forward. The Planning Department is expected to release the Community Plan Update (CPU) Discussion Draft in April at the UCPG meeting on Tuesday, April 11. Refer to the information provided by UCPG Chair Chris Nielsen in the April newsletter available at: https://www.universitycitynews.org/ucca-newsletter-archives/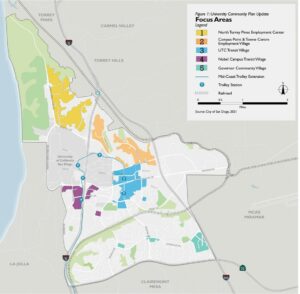 Meanwhile, Andy Wiese (CPUS Chair), Chris Nielsen (UCPG Chair) and Nancy Graham (City Planner) continue to gather and review community comments on the current Scenarios A & B. There is still time to submit your suggestions.
I urge you to write your comment as a suggestion … in other words, be specific and write what you want to see in each Focus Area, not what you don't want. What do you want the Focus Area to look like? You'll find helpful information from the March CPUS meeting in the April newsletter in the article from Katie Rodolico, UCCA's rep on the CPUS. 
The five Focus Areas in University City are:
Focus Area 1: NORTH TORREY PINES EMPLOYMENT CENTER
Focus Area 2: CAMPUS POINT and TOWNE CENTRE EMPLOYMENT VILLAGE
Focus Area 3: UTC TRANSIT VILLAGE
Focus Area 4: NOBEL CAMPUS TRANSIT VILLAGE
Focus Area 5: GOVERNOR COMMUNITY VILLAGE
Should University City residents have a say in how the community will grow? Yes, of course! Email your Community Plan Update suggestions to:
TO: awiese@sdsu.edu, cn@adsc-xray.com, planning@sandiego.gov
CC: kentlee@sandiego.gov, dvnguyen@sandiego.gov
For more information about the Community Plan Update, visit: PlanUniversity.org
See also: https://www.universitycitynews.org/category/ucpu/