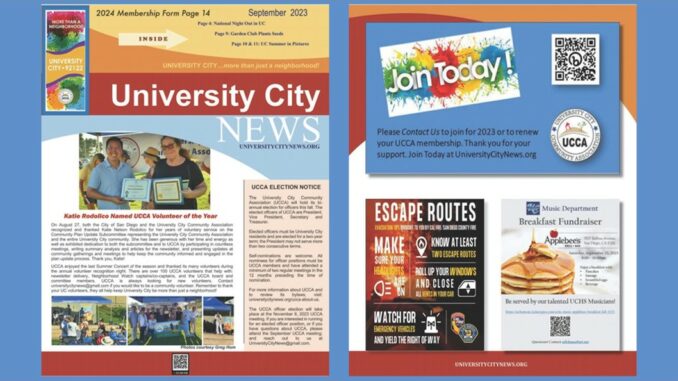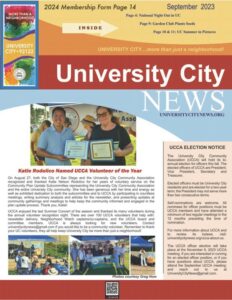 From UCCA President Diane Ahern: Happy Labor Day weekend! The September 2023 University City News (PDF version) is now online and available to read, print, and share with family and friends. Click on the Newsletter Cover image to read and download the PDF version. The print version of the September 2023 University City News will be available to pick up at the Libraries and Recreation Centers this weekend; home delivery begins this weekend also.
Our University City News print newsletter is unique. It is the only source of hyperlocal news in University City. You will find news and features here that you won't find anywhere else. We thank all the UCCA members, contributors, and newsletter advertisers who help to keep us in print. I am confident that you, our readers, value the University City News as much as I do. You are welcome to update your membership UCCA for 2024 at: Join UCCA Today!
We need your support and donations to help keep our newsletter in print. We appreciate your support.
---
September will bring many challenges to University City and UCCA is committed to helping our community be informed and stay informed.
Monday, September 11: Pure Water Construction Notice for Governor / Genesee Intersection; Community Meeting September 13
---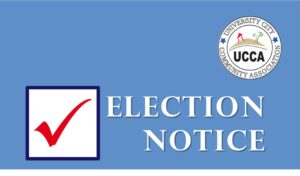 UCCA Election Notice: The University City Community Association (UCCA) will hold its election for officers this fall. Elections occur every two years. The elected officers of UCCA are President, Vice President, Secretary and Treasurer. Elected officers must be University City residents and are elected for a two-year term; the President may not serve more than two consecutive terms.
Self-nominations are welcome. All nominees for officer positions must be UCCA members and have attended a minimum of two regular meetings in the 12 months preceding the time of nomination. For more information about UCCA and to review its bylaws, visit: universitycitynews.org/ucca-about-us
The UCCA officer election will take place at the November 8, 2023, UCCA meeting. If you are interested in running for an elected officer position, or if you have any questions about UCCA, please attend the September UCCA meeting; and reach out to us at UniversityCityNews@gmail.com. 
Save the Date: Have a great September; I hope to see you at one of our many local community events and meetings.  For more, visit our Save the Date list for late August / early September at: https://www.universitycitynews.org/2023/08/24/august-2023-the-end-of-the-month-update-with-some-september-news-thrown-in-the-mix/