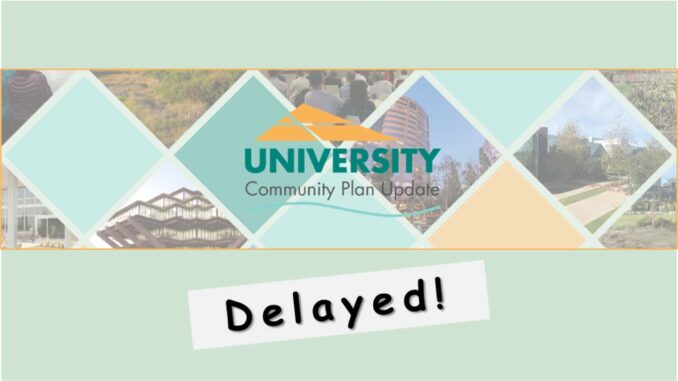 As announced at the October 11 UCCA meeting and confirmed on October 12, 2023 in an email from the Planning Department, the release of the Draft Environmental Impact Report (EIR) and the Draft Community Plan (CPU) have been delayed to early 2024.
As we move forward with the University Community Plan Update, we want to inform you that the anticipated release date for the Draft Environmental Impact Report and Draft Community Plan is now set for this winter.

Our team continues to work diligently to address feedback we received on the Discussion Draft Community Plan and to publish an environmental document that can be used to help inform the community and decision-makers about potential environmental impacts.

We will provide additional updates on our progress as we work toward an early 2024 release. When the documents are available, we look forward to welcoming additional feedback to inform the adoption process, which is anticipated to occur in Spring 2024.
For updated information regarding the University Community Plan Update and to subscribe to email updates, please visit: planuniversity.org
For more information about the Community Plan Update process from UCCA, visit: universitycitynews.org/category/ucpu/