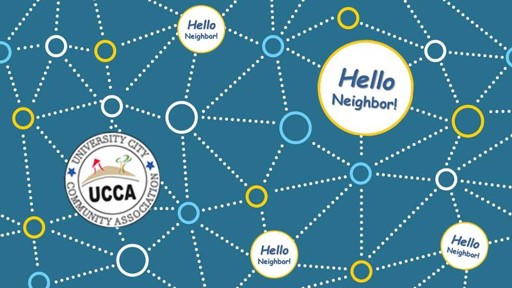 From UCCA's president Diane Ahern: Hello University City, it's one of those crazy months where UCPG meets on the 2nd Tuesday and UCCA meets on the 2nd Wednesday (just as we usually do) … but we meet in different weeks. Yikes! And to top it off, UCCA meets in person and starts an hour earlier than usual to host a community meet & greet before our usual and customary meeting. Don't be confused! Here is the bottom line:
UCCA (the community association) will meet & greet (and snack) this week on Wednesday, November 8, in-person at the Library at 4155 Governor Drive
UCPG (the planning group) will meet next week in a hybrid format on Tuesday, November 14
UCCA is in-person this month! UCCA will host an in-person meeting on Wednesday, November 8, at the University Community Library at 4155 Governor Drive. This is our UCCA officer election meeting and will follow a slightly different format than our recent Zoom meetings.
PDF Agenda available: UCCA Agenda November 8 2023
UCCA will start at 5 PM on November 8 at the Library at 4155 Governor Drive with a one hour meet & greet plus refreshments. This will be followed by our formal UCCA meeting from 6 PM to 7:45 PM. 
If you have an agenda item to share, please contact us at: UniversityCityNews@gmail.com. The preliminary order of business/ agenda for the Wednesday, November 8, in person UCCA meeting is as follows:

5 to 6 PM – Community Meet & Greet

Meet & greet community members, legislative reps, community leaders, public safety reps, etc
Enjoy light refreshments
Meet & greet Pure Water reps; and Library Friends reps
UCCA and community members can renew their memberships or join UCCA for 2024
Meet & greet the UCCA candidates and dues-paying UCCA members (current 2023 and/or new 2024) can vote in UCCA officer election

5:55 PM – library officially closes for the day at 6; entrance doors will be locked

6 PM – 7:45 PM – UCCA meeting called to order; Pure Water and Library Master Plan presentations; officer election voting continues

6:05 PM – Pure Water and AC Water & Sewer Group 1048 presentation – including the plan for Genesee by the HS and Town Center Drive by the Temple – Sarah Bowles and construction team
6:30 PM – Library Master Plan presentation – including the two University City libraries – Misty Jones (SD Library Director) and Library Staff
6:45 PM – Funding request vote on Library Friends request for $500 – we heard from Helen Lebowicz last month
6:50 PM – President announcements – including last call for candidates / votes
6:55 PM – Usual and customary legislative and public safety and community representatives / leaders
7:15 PM – Community open forum / public comment
7:25 PM – UCCA Election Results – Julie and Mack; remarks by newly elected officers
7:30 PM – UCCA committee reports
7:45 PM – Adjourn and room cleanup
Agenda item to share? Please contact us at: UniversityCityNews@gmail.com
UCCA Election Information and Candidate Statements: https://www.universitycitynews.org/ucca-election-notice/
UCCA November PDF newsletter: https://www.universitycitynews.org/ucca-newsletter-archives/
University City News updates: https://www.universitycitynews.org/
And what about UCPG (the planning group)? They will meet on Tuesday, November 14. When available, their preliminary agenda will be posted at: https://www.sandiego.gov/planning/community/profiles/university/agendas