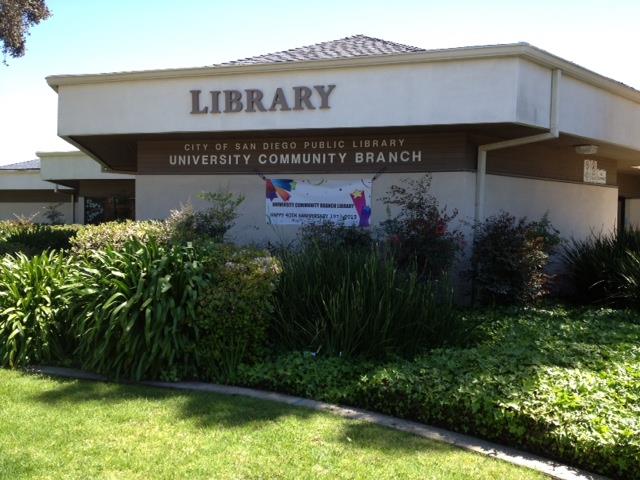 UC Community Library November Highlights | 4155 Governor Drive | 858-552-1655 | sandiego.gov/public-library. 
Library PDF: UC EVENTS Nov 2015; Library PDF: UC Calendar Nov 2015
If you would like to receive a monthly email with information about Library on Governor programs, please make your request to Library Assistant Phetsamone Bergersen at PBergersen@sandiego.gov.
Qi Gong – Every Monday @ 9:30 – 11:30 AM. (except November 9). Qi Gong (Chi Gong) is a simple preventative health method of relaxing and harmonizing the body; suitable for any age and health condition.

Zumba for Special Needs and Beginners – Every Monday @ 1:00 – 2:00 PM. (except for November 9). Led by Lis Garces a licensed Zumba® instructor since 2007; Founder and Director of the Juan Carlos Organization which provides dance therapy exercise for the Special Needs Community.

Adult Yoga – Every Tuesday @ 4:00 – 5:00 PM. Gentle exercises to aid flexibility and improve concentration. Bring a yoga mat or towel.

Chair Sit Yoga – Tuesday, November 3 and 17 @ 2:00 – 3:00 PM. Get fit where you sit! Chair yoga is a gentle form of yoga that is practiced sitting on a chair or standing using a chair for support.

Accordion Club – Saturday, November 14 @ 9:30 AM. – 12:30 PM. All are welcome! Second Saturday of each month.

Ellie Lamson Band – Wednesday, November 4 @ 6:30 – 7:30 PM. Ellie Lamson has been living in San Diego for over twenty years. Her original writing styles would be classified as Folk-Americana.

Friends of the Library Book Sale – November 5 – 7 (Thurs. 1:00 – 5:30, Fri. 9:30 – 5:30, Sat. 9:30 – 2:30). Come support your library and buy books, music CD's, DVD's, etc. at our book sale. All the money raised will be used for programming, materials, and equipment at the University Community Library.

Peripheral Neuropathy Lecture – Tuesday, November 10 @ 1:00 – 3:00 PM. Learn how to end neuropathy pain. Limited space, please call (619)275-3683 to RSVP. Presented by: The Foundation for Wellness Professionals, a nonprofit.

2016 Medicare Changes – Thursday, November 12 @ 2 – 4 PM.     Open enrollment October 15 – December 7. Learn about the changes to Medicare plans for the new year, beginning January 1.

UC Book Club – Wednesday, November 18 @ 2:00 PM. The Book Club will be discussing Shadow of the Wind, which is also the book chosen for the 2015 One Book, One San Diego reading program.

Fine Wine Seminar – Wednesday, November 18 @ 6:30 – 7:30 PM. Wine Basics or a Common Sense Approach to Wine.  Join Bill Curtis who will share what questions to ask clerks in a wine shop, and servers in a restaurant when ordering wine.

Oasis: Estate Planning in 2015: What You Need To Know – Thursday, November 19 @ 2:00 – 4:00 PM. This class focuses on the main aspects that every estate plan should include, as well as specific pointers for certain age groups, family situations, and income levels.

Scrabble Club – Tuesday, November 24 @ 5:00 PM. – 8:00 PM. All are welcome! Bring your own board and meet new friends!

 Preschool StoryTime for Kids – Every Thursday @ 10:30 – 11:30 AM. Join us for stories, crafts, finger plays and songs.

Makerspace Craft Station – All week long (Monday – Saturday). A craft station is available in the Children's Area during library hours with a different craft each week.

Exotic Animal and Magic Show – Wednesday, November 4 @ 2:00 – 3:00 PM. This show is guaranteed to take your breath away as 7 live exotic animals are produced during the magic show. One lucky kid will float in the air and all the kids will get a chance to pet the animals at the end of the show.

Go Gaming – Every Tuesday @ 2:30 – 4:30 PM. (except November 3). Learn the ancient mind game of Go from the President of the San Diego Chapter of the American Go Association.

Kendama Club – Every Wednesday @ 1:30 – 2:30 PM. (except November 4). Test your skills against others learn new tricks and just have FUN!!!

Video Game Fridays – Every Friday @ 3:00 – 4:00 PM. (except November 6). Wii gaming with your friends, Get your game on!

Teen Writing Club – Thursday, November 12 @ 4:00 PM. –The Significance of Small Things: Making the Ordinary Extraordinary. Write to a prompt, read it if you want, and have fun in the process. All will write for fifteen minutes, and then share with the rest of the group, voluntarily. The assignment is general enough so you control the content. You will be surprised, and maybe even delighted, with what you can write in a short time.
Notes: Many thanks to the Friends of the Library for their generous sponsorship. You, too, can be a Friend; ask at the Check Out Desk. Please call the libraries to confirm any given program. Changes are rare, but may occur. All public libraries will be closed November 11, Veterans' Day.
---
Note: If you have a news item to share, please submit your story through UCCA's Contact Us link at https://www.universitycitynews.org/contact-us-or-volunteer-in-uc/.  
Review article guidelines at https://www.universitycitynews.org/ucca-newsletter-archives/
What do Facebook, Twitter, Nextdoor, ImproveUC and UCCA have in common? They are all ways neighbors can connect with neighbors and the University City community. Create a post, start a conversation, share the news, organize an event, keep in touch, take a look: