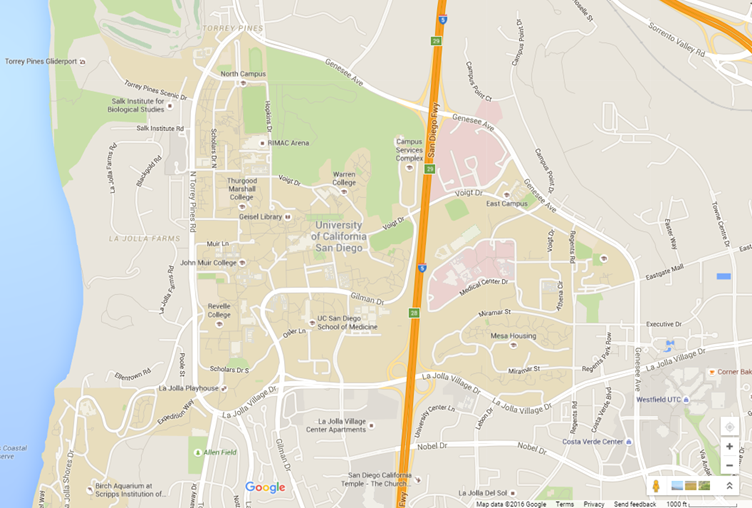 From SANDAG/CALTRANS CONSTRUCTION NOTICE:
In preparation for construction of the new Gilman Drive Bridge across Interstate 5 (I-5), crews are removing vegetation along both sides of the freeway, between Genesee Avenue and La Jolla Village Drive [through the UCSD campus]. Shoulder or lane closures may be in place during this work, which is expected to be completed in mid-February.

Once the new bridge has been built, the contractor will replace landscaping along the freeway slopes with coastal sage scrub plants and Torrey Pines that are native to the San Diego coastal area and thrive with low water and minimal maintenance. The new plantings will be irrigated with recycled water which will be increased during plant establishment until the plantings are sustainable with natural rainfall and irrigation can be turned off.

ABOUT THE PROJECT

The Gilman Drive Bridge will improve connectivity on the UC San Diego campus which is currently served by a single campus crossing at the I‐5/Voigt Drive Overcrossing. The new bridge will provide a direct link for pedestrian and vehicle traffic between the research centers on the east campus and the Veterans Affairs Medical Center on the west campus.

The project is part of the UC San Diego transportation system plan as presented in the 2004 UC San Diego Long Range Development Plan. It provides an additional overcrossing and increases opportunities for alternative public transit routes through and around the campus.

The Gilman Drive Bridge project is being constructed in conjunction with the Mid-Coast Trolley Extension Project which is expected to begin construction in late 2016. For more information, please visit www.KeepSanDiegoMoving.com/Midcoast.
For related posts, visit https://www.universitycitynews.org/category/transportation/
---
Notes: Join UCCA today at https://www.universitycitynews.org/join-ucca-today/
If you have a news item to share, please submit your story through UCCA's Contact Us link at https://www.universitycitynews.org/contact-us-or-volunteer-in-uc/
Review article guidelines at https://www.universitycitynews.org/ucca-newsletter-archives/
What do Facebook, Twitter, Nextdoor, ImproveUC and UCCA have in common? They are all ways neighbors can connect with neighbors and the University City community. Create a post, start a conversation, share the news, organize an event, keep in touch, take a look: